Making Government Work
10 ways city governance can adapt to meet the needs of Oaklanders
SPUR Report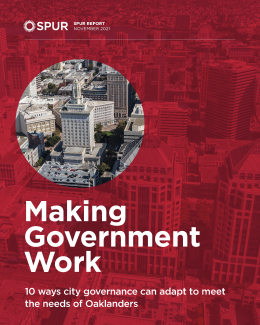 The COVID-19 pandemic and social justice movements of 2020 exposed persistent challenges in how Oakland is governed and how it delivers services for all residents. These events made it clear that Oakland's model of government needs to be updated. As the city grows in size and complexity, its system of government must evolve.
Despite many strengths, Oakland's current structure — a hybrid between the traditional "strong mayor" and "council-manager" forms of government — contributes to the city's challenges. This hybrid structure makes it difficult to establish accountability for the effective functioning of government, since it leaves open the question of which branch of government is in charge. In addition, many of the rules, procedures, processes and norms currently in place create obstacles and limit productive collaboration within and across different branches of government.
This report provides an analysis of Oakland city government, with particular attention to its governance structure, and makes 10 recommendations for how the city can more effectively serve the needs of all Oaklanders. These recommendations are intended to help Oakland thrive by strengthening a positive culture of collaboration and transparency within government and providing city leaders with tools to solve common problems and better serve the interests of the public.