A Civic Vision for Growth
Principles for creating an equitable and sustainable region
SPUR Report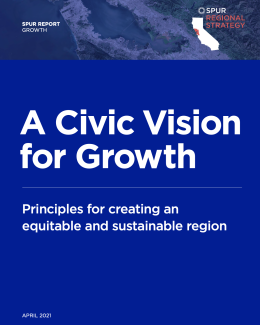 The San Francisco Bay Area is a place of incredible possibility and should have a bright future. Instead, it faces threats from some of the highest housing costs in the country, growing income inequality, long commutes and increasing danger from climate change. If we continue with business as usual, the region can expect these challenges to continue to escalate throughout this century and beyond.

But what if the people of the Bay Area chose a different future? What if we planned to build enough housing, so that it became plentiful and affordable to everyone? What if we protected our open spaces and reduced our dependence on fossil fuels to combat climate change? What if we added enough low- and middle-income housing in areas of opportunity, so that instead of remaining exclusive, they became economically and racially diverse? What if we added new jobs and housing near transit, and did so in a way that supported — rather than displacing — the surrounding community?

In this version of the future, instead of doing things the way they've always been done, communities and policy makers commit to a set of sustainability and equity principles that guide decisions about future job and housing growth. Together we embrace our collective responsibility — and our collective power — to enable a different future: a New Civic Vision for the Bay Area.