Meeting the Need
The Path to 2.2 million new homes in the Bay Area by 2070
SPUR Report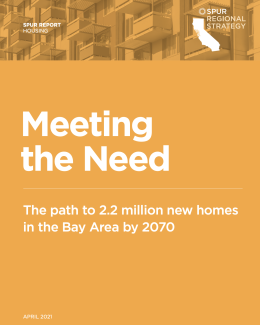 In order to meet the region's future housing needs, the San Francisco Bay Area will need to produce 2.2 million homes over the next 50 years across all income levels. Where should all of this housing go? And what policies are needed to ensure it can be built?
To answer these questions, SPUR has developed a "New Civic Vision" for the Bay Area that balances two core goals: environmental sustainability and equity. To meet these goals, the region needs to build housing near transportation and along commercial corridors, as well as adding small apartments in suburban neighborhoods. Following these principles can create a region where housing is affordable, neighborhoods are racially and economically inclusive, transportation options are plentiful and the impact of hazards that come from climate change is limited.
SPUR's report Meeting the Need outlines the radical changes we need to make, not only to how much housing we build but also to where we build it.
See the other reports in this series at Housing the Region.