The Future of Transportation
Harnessing private mobility services to support the public good
SPUR Report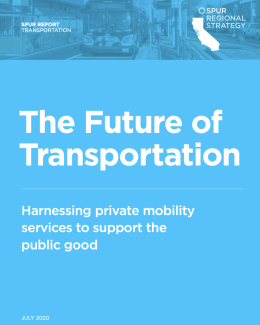 The rise of new mobility services — from Uber and Lyft to bike-sharing and e-scooters— has raised questions about the Bay Area's transportation future. Can we connect these new tools with public transit to reduce dependency on cars, cut down climate emissions, lower demand for parking and create more livable cities? Or will this revolution, led by the private sector and focused on financial returns, lead to yet more reliance on cars and greater inequality?

Today the COVID-19 pandemic is casting even greater uncertainty on both public and private transportation. Transit ridership and fares have plummeted by 90 percent or more at most agencies. Uber and Lyft have lost between 70 and 80 percent of their riders. Venture capital for shared bikes and scooters is drying up. And all services are facing new costs for cleaning.

Into this maelstrom of change, SPUR is releasing a new report. The Future of Transportation describes how public transportation and private emerging mobility providers can play to their respective strengths, function as a seamless network, and provide access for people of all incomes, races, ages and abilities.