From Workspace to Homebase
Exploring the viability of office-to-residential conversion in San Francisco's changing real estate market
Research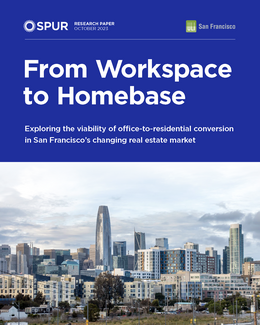 San Francisco faces a huge opportunity to reimagine its urban center. Downtown could become a 24-hour, mixed-use hub that is welcoming to all Bay Area residents and visitors. One tactic — converting empty, obsolete offices into apartments — could both reanimate the core of the city and provide housing for more people in an area rich in transit, jobs, culture, recreation, and entertainment.
In a first-of-its-kind study, SPUR and ULI San Francisco, in partnership with Gensler and HR&A Advisors, explored not just the physical suitability of office buildings for redevelopment as housing but also tested the financial feasibility of conversion projects under different economic conditions and policy scenarios.
We found that with today's construction costs and rents, such projects are not financially feasible because they generate less value than maintaining office use. San Francisco has begun to address this challenge with recent planning code changes. To further incentivize redevelopment of underperforming office space, the city could ease building code requirements and, along with the state, reduce some fees and taxes.
Downtown's unfolding economic crisis must be met with bold strategies that fall outside of traditional policy thinking parameters. Our report lays out six policy imperatives for realizing office-to-housing conversions on a large scale.
Watch our video summarizing the findings: