Office-to-Residential Conversion in San Francisco's Changing Real Estate Market
Research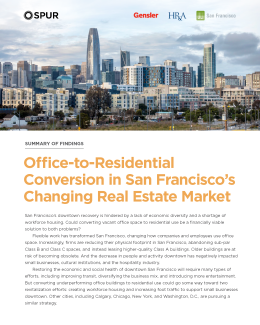 Flexible work has transformed San Francisco, changing how companies and employees use office space. Firms are reducing their physical footprint, and the decrease in people and activity downtown has negatively impacted small businesses, cultural institutions, and the hospitality industry. Downtown's recovery is hindered by a lack of economic diversity and a shortage of workforce housing. Could converting vacant office space to residential use be a financially viable solution to both problems?
In a first-of-its-kind study, SPUR and ULI San Francisco, in partnership with Gensler and HR&A Advisors, explored not just the physical suitability of office buildings for redevelopment as housing but also tested the financial feasibility of conversion projects under different economic conditions and policy scenarios. We published a summary of our findings in March 2023.
A report presenting our full analysis and expanding on our findings will be released later this year.