The State of Good Food Purchasing in 2022
What's working and what isn't in public food purchasing
Policy Brief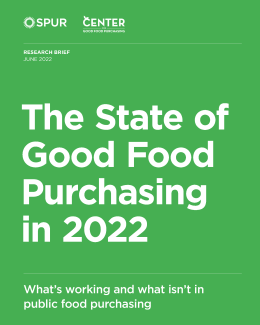 California grows more than a third of the country's vegetables and two-thirds of its fruits and nuts. Yet, recent assessments of food purchasing by nine Bay Area institutions show that less than 19% of their spending is on local food. This disparity in production and local purchasing highlights a gap in the connection between supply and demand.
Bay Area public institutions including schools, jails and hospitals are working to address this gap by aligning their spending with the five core values of the Good Food Purchasing Program (GFPP), procuring food that is local, sustainable, fair, humane and healthy. SPUR and The Center for Good Food Purchasing's new research brief, The State of Good Food Purchasing in 2022, identifies seven strategies to support institutions in aligning supply and demand to build a more resilient, sustainable and equitable regional food system.
To track institutions progress over time The Center for Good Food Purchasing built the Bay Area Good Food Purchasing Dashboard. The dashboard aggregates purchasing data from across the nine public hospitals, schools and correctional facilities currently participating in the GFPP to showcase current success and opportunities for improvement.
Together the research brief and dashboard lay the foundation for addressing roadblocks to good food purchasing. Bay Area public institutions can accelerate good food procurement and create a model for scaling locally informed, values-based food purchasing in other regions across the country.
Bay Area Good Food Purchasing Dashboard
The State of Good Food Purchasing in 2022