What Comes Next for Downtown San Francisco?
By Sujata Srivastava, San Francisco Director, SPUR
San Francisco's post-COVID downtown recovery has lagged behind the recovery of most major North America cities' downtowns. Fewer than a third of the people who frequented San Francisco's downtown before the pandemic do so now. There are two main reasons for the exodus. First, a large share of San Francisco's jobs can be done mostly remotely, and therefore, only about 40% of existing office space is occupied. Second, many workers are unable to find affordable housing options near their jobs, making the Bay Area's average commute among the longest in the country. From 2020 to 2022, according to the U.S. Census Bureau, San Francisco lost 65,000 residents, many of whom were low-wage service workers seeking more affordable places to live.
In San Francisco, the downtown core, also known as the central business district, is dominated by office uses, with little housing and entertainment nearby. This monoculture has been a detriment in the post-COVID era. Cities and regions that offer a more diverse economic base and shorter commute times are faring much better.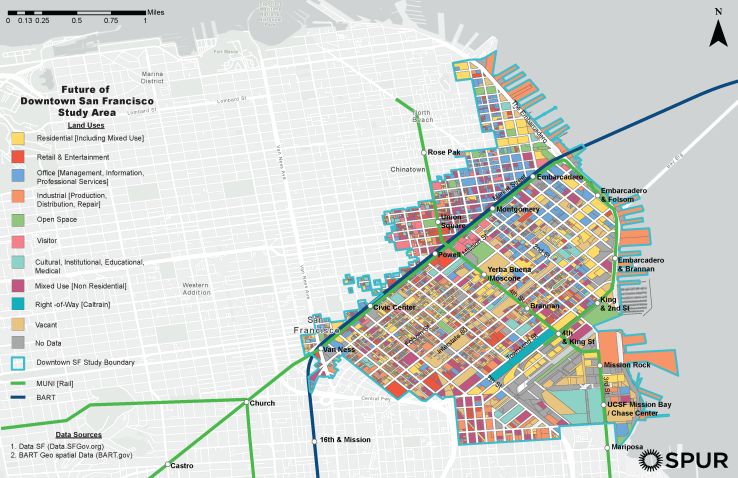 The decline of San Francisco's downtown affects the health of the entire city and that of the greater Bay Area. The reduced number of people working in offices has ripple effects on suppliers, retail stores, and restaurants that are now serving a much smaller daytime population. According to the U.S. Census County Business Patterns, many small businesses have been forced to close, creating high vacancies on the ground floor of office buildings. Fewer people are taking transit to work, and cars are clogging up the roadways and contributing to pollution and greenhouse gas emissions. BART, Muni, and Caltrain are struggling to replace the revenues they formerly received from commuters, putting the sustainability of the Bay Area's transit system in jeopardy. 
The decrease in activity downtown also has major consequences for San Francisco's budget, making it harder for the city to provide essential services. A joint report from the city controller, the mayor's budget director, and the Board of Supervisors budget analyst estimates that the budget deficit will increase from $291 million in the 2023–2024 fiscal year to $1.3 billion by the 2027–2028 fiscal year.
These challenges are not unique to San Francisco and the Bay Area. Other cities with large office markets, including New York, Chicago, Los Angeles, Seattle, and Boston, face similar challenges.
Can anything be done to bring about a renaissance of San Francisco's downtown?
Yes, but city leaders and downtown stakeholders first must let go of the pre-pandemic version of downtown and embrace a new vision. In February 2020, the month before the pandemic lockdown, downtown San Francisco already faced many of its current challenges, including traffic congestion, patchy transit service, and insufficient housing. The city's office market was incredibly expensive, partly because of Proposition M caps on how much office space could be built. The limited office inventory restricted the types of businesses that could afford to operate downtown, and many nonprofits and small firms were priced out of San Francisco. In addition, the retail industry was already undergoing structural changes with the growth of online shopping, and some retail districts were struggling to find viable tenants for ground floor spaces.
The SPUR Regional Strategy envisioned downtowns as much more than workplaces. Under this model, downtown San Francisco could become a bustling, 24-hour destination with thriving cultural and entertainment districts, supported by world-class rapid transit, bike, and pedestrian connections. It could have more welcoming public spaces. It could offer more housing and social services for vulnerable residents and more affordable spaces for small businesses, artists, and community organizations. Downtown could serve as the Bay Area's social hub, a place where residents can truly celebrate the Bay Area's social and racial diversity. It could be a place to begin repairing the damage of decades of racial segregation.
Over the last 18 months, SPUR has brought together leaders from the public, private, and nonprofit sectors to discuss the issues facing downtown San Francisco. We have hosted and participated in town hall meetings and forums to hear from residents, business owners, and workers about their concerns and aspirations for downtown. Over and over, we have heard that revitalizing downtown is of utmost importance to San Franciscans and that the future version of downtown should embody the city's values of equity and inclusion.
Any efforts to revitalize downtown should acknowledge that there are no quick and easy fixes. The complexity of the challenges facing downtown San Francisco demands action on many fronts. The city's Roadmap to Downtown San Francisco's Future, released in February 2023, features a variety of strategies, including diversifying businesses, removing barriers to housing development, assisting small businesses, investing in transportation and public spaces, and growing arts, culture, and entertainment.
Building on the city's roadmap, stakeholder input, and community perspectives, SPUR has identified four key areas of focus for our policy research, engagement, and advocacy related to downtown revitalization.
1. Creating Policies to Realize a 24/7 Downtown with Diversified Land Uses and Activities
How should land uses downtown evolve? What is the right balance of workplaces, housing, entertainment venues, and other uses? To what extent do the city's zoning and planning codes need to change to be more flexible? How can the city incentivize the reuse of underutilized buildings?
SPUR has developed policy imperatives to introduce more housing through the conversion of underused office buildings, and Mayor London Breed and Board President Aaron Peskin have jointly introduced legislation to relax planning and building codes to create more flexibility for conversion projects. Beyond the code reforms, more could be done to incentivize conversions where it makes sense for property owners to pursue that pathway. However, only 40% of buildings are physically suitable for residential uses, and many of these buildings would not be financially feasible to redevelop. Therefore, further diversifying land uses will require other policies and strategies, such as adapting existing buildings to accommodate academic institutions and exploring the potential to create entertainment districts.
2. Introducing Policies and Programs to Ensure That Small Businesses and Black, Latinx, and Asian-Owned Businesses Are Fully Participating in the Economic Recovery
Small businesses have been hard hit by the pandemic, and many are in debt and struggling to remain open. What types of programs can help ensure that small businesses not only survive but prosper?
SPUR has kicked off research to understand the major issues facing small businesses, especially those owned by people of color. We are exploring the viability of creating programs that provide affordable spaces for small businesses. We are also looking at improvements in the city's permitting processes that could significantly reduce costs and otherwise make it easier for businesses to open and expand downtown.
3. Using Transportation Investments to Reduce Reliance on Cars to Travel Downtown
Downtown San Francisco's robust transit network is essential to meeting the city and state's climate and equity goals. Yet the largest transit operators are facing a fiscal cliff as federal support dwindles. SPUR is leading advocacy efforts to secure state funding to ensure that we can not only continue but also expand transit service to better serve residents, workers, and visitors. The city's active transportation network downtown could also be expanded with more protected bike lanes, especially north of Market Street, and additions to the Slow Streets network.
4. Revisiting the City's Tax Structure to Balance Fiscal Sustainability with Economic Development Goals
SPUR has long been a proponent of creating a more resilient and equitable business tax structure in San Francisco. In recent years, voters have approved higher business taxes, with significant increases to gross receipts taxes and the real estate transfer tax. Given the magnitude of the change that San Francisco's economy is undergoing as a result of hybrid work, SPUR believes it is time to study the impacts of recent tax increases on the city's economic growth and to guide tax policy accordingly.
The policy changes we have described above are not easy to implement, and all of them will require strong partnerships between local government, property owners, businesses, community organizations, and civic organizations. SPUR is committed to reimagining downtown San Francisco to make it a more prosperous and equitable place where everyone can feel they belong.
For more information on SPUR's work on downtown revitalization in San Francisco, contact Sujata Srivastava at [email protected].