Four Trends Shaping the Future of Downtown San Jose
By Michelle Huttenhoff and Jonathan Davis
San Jose has long been known as the bedroom community for Silicon Valley. But four new trends in downtown development may be about to change that.
For years, the city has struggled to grow its job base; currently it is the only major city in the South Bay with less than one job per employed resident. In comparison Palo Alto, a much smaller community, has three jobs per employed resident. More people commute out of the city for work than into it, and retail has struggled to retain a base of customers. As a result, the city suffers from a relatively weak tax base. 
In SPUR's 2014 paper The Future of Downtown of San Jose, we argued that a great city begins in its downtown. We provided six key recommendations for how to encourage growth in the urban core, from reserving space for jobs near transit to promoting growth in an expanded central urban area that stretches beyond the traditional boundaries of downtown. Five years later, we are seeing these ideas unfold — with positive indications for San Jose's financial footing.
Analyzing development activity over the last year, we have identified four trends that show how these recommendations are being realized.  
Trend 1. New momentum downtown.
In the last year, downtown San Jose has seen increased interest in commercial development from the private market. At the center of the attention is Google's mixed-use development in the Diridon Station Area, an ambitious integration of a corporate campus with housing, retail and a transit hub. Google's recently unveiled concept for the project includes 6.5 million square feet of office space, up to 5,000 homes and 500,000 square feet of retail, culture and education space. The city estimates that Google's mixed-use development could bring up to 25,000 jobs to the heart of downtown and increase downtown jobs by 65 percent. 
A number of other big projects are underway downtown:
The Sobrato Organization's proposed Market Towers complex will bring 568,000 square feet of office space to an important intersection at South Market Street and West San Carlos Street.


 

Adobe, a long-time employment anchor in downtown San Jose, has doubled down on the neighborhood by moving forward on a fourth tower for its urban campus, with plans to add 4,000 jobs.


 

Boston Properties has partnered with TMG on Platform 16, a massive office development near Diridon Station and the future Google campus. Slated to bring 1.1 million square feet of new office space, it is due to be completed as soon as 2021.


 

Boston Properties plans to turn two vacant parking lots into an office development along South Almaden Boulevard between Woz Way and San Carlos Street, directly across from the convention center. The site could contain more than a million square feet of office space with as many as 9,000 workers.


 
Jay Paul Co. has purchased Cityview Plaza, which sits at one of the most important civic centers in downtown, surrounded by the Tech Museum, The San Jose Museum of Arts and the Plaza de Cesar Chavez. The building, currently a mixed-use office and retail complex, will be bulldozed and replaced with modern office towers that take advantage of the city's recent increase in building height limits. 
With these projects and more, downtown San Jose is rapidly reorienting itself to become an economic anchor for Silicon Valley and the Bay Area.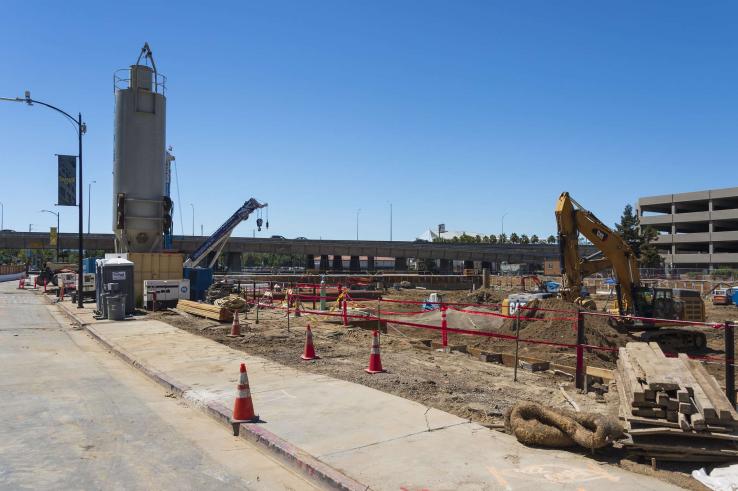 Trend 2. Growth and density in an expanded Central San Jose.
A key recommendation in The Future of Downtown San Jose was to grow an area we dubbed "Central San Jose," the neighborhoods and commercial districts that surround the urban core. We proposed that areas within a 30-minute transit ride from downtown had the potential to grow and urbanize. This trend is picking up quickly.
One of the largest new developments in this geography is the Coleman Highline project. Located directly west of the Norman Y. Mineta San Jose International Airport, this mixed-use project will create 1.5 million square feet for commercial office space, a hotel and retail space. This development has already attracted two high-profile commercial tenants, Verizon Media and Roku, adding more than 5,000 jobs and expanding the footprint of downtown northward.
West San Jose is also seeing rapid growth, specifically through the expansion of Valley Fair and Santana Row. Federal Realty Investment Trust, the largest developer of the Santana Row complex, has announced a new project that would add 360,000 square feet of commercial development. And data software firm Splunk is leasing another 300,000 square feet in office space, in addition to its existing 235,000-square-foot building. 
As Central San Jose continues to grow, it's important that the city invest in the capacity of public transit to effectively link these growing areas. Coleman Avenue is increasingly becoming an employment, shopping and entertainment corridor, joining Santana Row/Valley Fair as a key Central San Jose destination. All three must be linked to each other — and to San Jose's cultural, entertainment, dining, hotel and transit center in downtown.
Trend 3. A higher bar for urban design.
For years, SPUR has emphasized the importance of urban design.Our first report on San Jose, 2013's Getting to Great Places: How better urban design will strengthen San Jose's future, provided 52 recommendations for how San Jose could live up to its aspirational general plan and create excellent, walkable urban places. With all the new construction underway, now is the time to ensure that the city grows in a way that is authentic to San Jose, promotes a vibrant streetscape and achieves its climate goals. As we wrote in 2013, "The broad-based enthusiasm for a more urban future — coupled with the city's spectacular weather and natural setting, diverse communities and legendary capacity for innovation — presents a once-in-a-generation opportunity to retool for a more sustainable and competitive future."
The city is starting to advance more people-centered design policies and practices. In 2019 the San Jose City Council adopted a new set of downtown design guidelines that promotes putting active uses in ground-floor store fronts, integrating new and existing structures through streetscape and landscape design, and building green roofs and decks. Several of the large-scale commercial development plans that are making their way through the permitting process have embraced these new design standards and worked to connect private properties to the public realm. These projects recognize that market tastes have evolved: There is increasing demand for engaging places, diverse experiences and convenient amenities.
There has also been a growing appreciation of the value of natural open spaces within an urbanizing downtown, in particular the Guadalupe River Park. Situated in the heart of downtown, right next to Diridon Station, this urban park is home to a flourishing natural habitat that links 11 miles of trail throughout San Jose.
Currently, there are three major commercial developments planned alongside the Guadalupe River Park: the Boston Properties towers on Woz Way, the Adobe tower, on West San Fernando Street, and Platform 16, at Julian and Autumn streets. All of these developments are finding connections between their properties and the river park. The Boston Properties site is uniquely positioned near the Children's Discovery Museum and along the river. The designs show an open-air concept for the ground floor, allowing people to flow through the space onto the trail.
SPUR's Guadalupe River Park initiative, a partnership with the City of San Jose and Guadalupe River Park Conservancy, has brought renewed focus to improvements and investment along the river. Both the public and private sectors are recognizing the opportunity to create a world-class urban park that could bring environmental, economic and social benefits to urban development throughout and beyond downtown.
Trend 4. Resilient design through green and blue infrastructure.
Finally, the spate of new development offers San Jose the opportunity to invest in next-generation infrastructure. SPUR was an early promoter of going fossil freeto combat climate change by fully electrifying the energy uses of commercial and residential buildings. Adobe has been a leader in this field; its planned expansion will be the first totally fossil-free office project in the Bay Area, running completely on electricity. While other tech campuses have gotten close to this goal, the Adobe project is planned to include electric-powered food service facilities, which would be a first.
Downtown investment group Urban Community is doubling down on sustainability with plans to renovate the historic Bank of Italy building, among others in its portfolio, to be net zero, demonstrating methods for sustainably renovating a historic building. And to the west of downtown, Westfield Valley Fair is investing in renewable energy. When the mall's expansion and renovation is finished, Valley Fair will get 30% of its power from solar arrays Westfield is currently installing.
The City of San Jose's ambitious Climate Smart Program has already been recognized nationally as a winner in Bloomberg Philanthropies' American Cities Climate Challenge. With $10 billion in transportation investments underway to transform the Diridon San Jose Central Station, tens of millions of square feet of new development in the pipeline and significant efforts to improve walkability and bikeability downtown, the city is on its way to creating a transit-centered mixed-use district that is a model of sustainable and resilient design. 
The transformation of downtown is visibly underway: This former suburban landscape of underutilized parking lots and a smattering of residential towers is becoming taller, denser, greener, more walkable and more bikeable. City policies must continue to ensure that this change happens in a way that achieves and exceeds its climate goals and challenges builders to invest in great urban design that reflects and celebrates San Jose's unique history and culture.