The Bay Area is in the midst of a transportation and housing challenge as jobs grow faster than housing and commute trips get longer. In the South Bay, multiple commuter and passenger rail projects are in the works — BART to San Jose, Caltrain upgrades, high-speed rail — but most of them target just a few travel corridors. Left behind are many areas with more limited transit options and a high dependence on automobiles.
One of them is South Santa Clara County, which follows the rail corridor south of Tamien Station. With an estimated population of more than 200,000 people, the south part of the county is mostly residential. VTA and Caltrain do provide some bus and rail services along the corridor, but they are neither frequent enough nor time competitive enough to be an attractive option. As a result, most of the corridor's residents commute by driving, and more than 35 percent of South County commuters drive more than 45 minutes each way on congested freeways.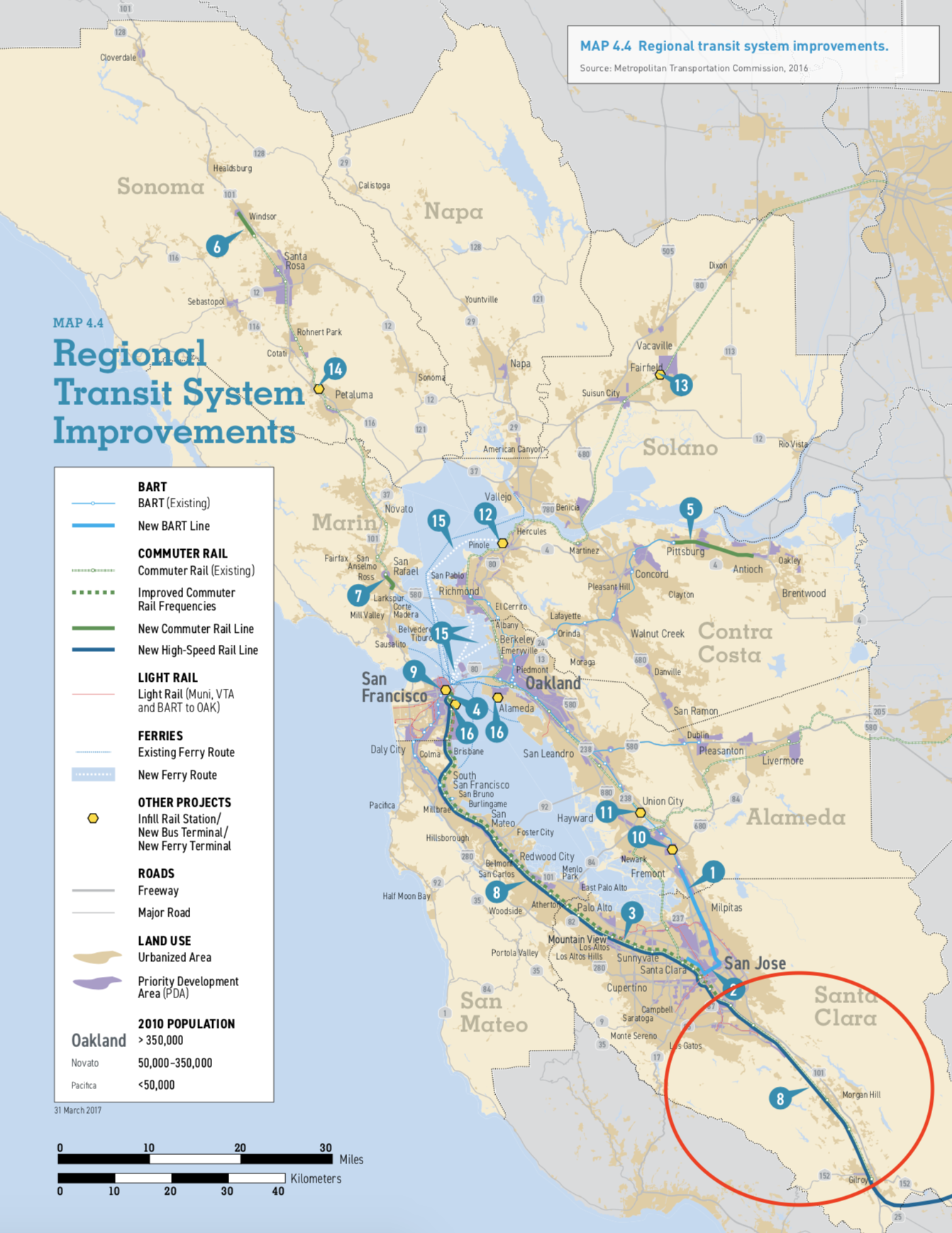 But this corridor has an under-utilized asset: the Caltrain/Union Pacific rail tracks from San Jose to Gilroy. Currently, Caltrain shares tracks with freight along the corridor and runs only three trains per direction each day of the week. But the State Rail Plan, released in 2018, identifies this as a key growth corridor linking the heart of Silicon Valley to South Santa Clara County and other areas such as Monterey County. A recent paper by James Lightbody, a senior transportation manager at AECOM and a member of SPUR's San Jose Policy Board, explores why increased rail service is needed and how it could be developed in the coming decade. This article explores some of the key findings of the paper's analysis.
Why Do South Santa Clara Residents Need More Transit Service?
Residents of South San Jose, Morgan Hill, San Martin and Gilroy currently have limited transit options, experience long commutes, mostly drive alone to work and travel on some of the most congested roadways in the county, including routes 85, 87, 101 and 280. Bus routes and light rail serve parts of the corridor, but they don't provide time-competitive service outside of central San Jose. More than 25,000 residents commute to North County jobs daily. These commuters are potential Caltrain customers. Currently 3 percent of all trips in the corridor are taken by transit. Substantially increasing this number would greatly help reduce greenhouse gas emissions.
 
Projected Growth in People and Jobs Around Caltrain Stations by 2040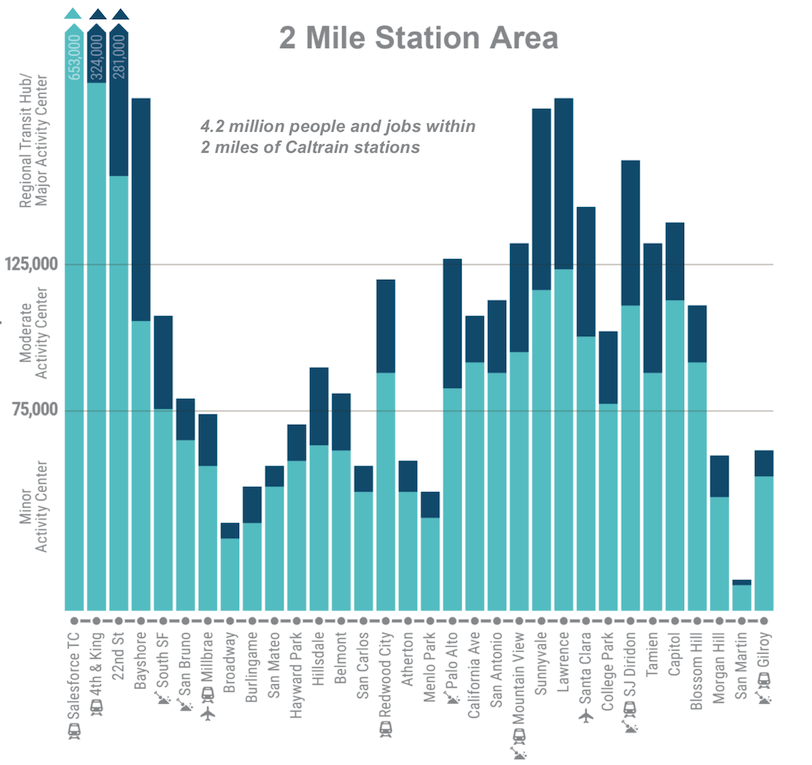 According to analysis Caltrain has done for its forthcoming business plan, South San Jose station areas have population sheds comparable to other Peninsula stations that have more frequent service, and several areas have been, or have potential to be, developed at higher densities. The station areas around Morgan Hill, San Martin and Gilroy, while smaller, have been growing rapidly in recent years. Overall, stations south of Tamien could significantly help in supporting the sustainable growth of our region around transit. But to do so, these places need access to frequent and reliable rail service. Otherwise, driving will remain the most convenient way to move around.
Many of the estimated 25,000 people who commute from South County to North County currently drive and park at the Tamien and Diridon stations. Increased transit service along the corridor could significantly reduce the demand for parking at these stations by providing many commuters with a good transit option closer to home. This would leave more room for people to live and work close to Diridon Station, where more than $10 billion in transportation investments will connect all the main regional rail services over the next decade.
Station

Population 2017

Households (2017)

All Jobs

Within 1-mile radius of the station

Blossom Hill

          17,893

             5,472

          13,581

Capitol

          36,935

          11,017

             4,873

Gilroy

          17,098

             4,668

             5,859

Morgan Hill

          15,781

             4,990

             5,292

San Martin

             2,344

                640

                609

Tamien

          28,079

             9,342

             8,902

Total

118,130

36,129

39,116

With more rail service to the South County stations, South County residents could easily access the rest of the region by transit. Increasing the frequency and reliability of the region's rail network would also require local transit agencies to provide more frequent, coordinated transit services to rail stations, playing the role of feeders for the system. In this way, more rail service to the South County stations would leverage the opportunity to improve local transit systems and increase their attractiveness.
Why Is Rail Service the Best Option?
While bus service is an option, VTA's operating budget limits potential expansion. And because most VTA transit service shares traffic lanes with cars, even the agency's express buses suffer from traffic congestion. This means VTA's most rapid transit mode is not currently time-competitive with driving. On the other hand, Caltrain has proven to be cost-effective, capable of moving a lot of people using less space and able to operate at speeds that can match or better driving times.
Rail service already runs on dedicated infrastructure. Increasing rail service in this part of the corridor would help support the state and regional frequent, reliable and convenient rail network as planned in the 2040 State Rail Plan, California High Speed Rail Authority 2018 Business Plan and forthcoming Caltrain Business Plan. In addition, potential state funding and other assistance, along with other rail partnerships, can be focused on rail service expansion.
What Would Increased Rail Service Look Like?
In the near term, Caltrain could run twice as many trains as it does today in each direction during peak hours and could add trains mid-day. Santa Clara County's 2016 Measure B sales tax program includes $314 million for additional South County Caltrain service. VTA is coordinating with the Caltrain Business Plan to better understand transit needs and strategies in the corridor. The Caltrain Business Plan lays out a longer-term plan, with frequent express service to Blossom Hill and less frequent, all-day service to Gilroy. The business plan service could proceed in advance of, or in conjunction with, high-speed rail. 
How Can More Service Happen?
The 2018 California High-Speed Rail Authority Business Plan for blended, electrified service to Gilroy offered a path to higher service levels for this corridor, with service expected to run by 2027. However, Governor Newsom's 2019 State of the State address prioritized the delivery of high-speed rail in the Central Valley over the Bay Area and Southern California, creating some uncertainty around when the project will reach Tamien and Gilroy. The Caltrain Business Plan proposes an alternative approach that could provide interim service until high-speed rail service starts.
The Caltrain Business Plan approach would potentially electrify the tracks from the Tamien station to the Blossom Hill station, providing faster, more frequent and more environmentally friendly service on electric trains instead of the current diesel trains. Implementing this plan would not be easy. It would require Caltrain to sign a new agreement with the railroad owner, Union Pacific Railroad, as well as significant work on the rail infrastructure. South of Blossom Hill, diesel service to Gilroy would be retained, but the frequency could increase, depending upon the new agreement's terms with Union Pacific.
In the near term, existing agreements with Union Pacific provide a framework for modest service expansion. These agreements allow two additional peak-hour round trips. Another five daily round trips could be implemented in conjunction with specified track and station improvements. Measure B funding could help implement this service, although other funding may also be needed. 
Given the time and money needed to build major new transit projects, this opportunity to incrementally develop new transit service using existing infrastructure is attractive and could be a cost-effective strategy.
What Are the Key Challenges?
Funding is critical. Caltrain and VTA — as the Peninsula Corridor Joint Power Board member representing South Bay service — will need to identify both capital and operating funds to increase its service beyond the limited available Measure B funds.
An agreement with Union Pacific would also be needed. This could range from negotiating additional track usage rights (in return for capital improvements and direct payments) to purchasing the right-of-way for public use. The State of California would be a key participant in these negotiations.
A secondary issue will be the right mix of operators. Caltrain envisions expanded service to Gilroy, but an inter-city operator such as Capitol Corridor might better handle new service to Salinas or beyond. Amtrak will also continue to operate in the corridor. 
In the longer term, particularly with the implementation of high-speed rail, there will be impacts to existing road crossings, some of which have the highest level of traffic on the Caltrain line. Grade separations will likely be needed at several locations, presenting another funding challenge.
What Should Cities Do?
South County Cities can provide advocacy for better transit to South San Jose and South Santa Clara County, focused primarily on implementation and funding of the Caltrain Business Plan. One key area would be to support the state's efforts to negotiate an agreement with Union Pacific.
Cities should also plan for their station areas, paying particular attention to land use and development strategies that support walkability, a mix of uses and good station access. Planning for future grade separations that provide a great experience for people who walk and bike should also be a priority.
Next Steps
The further development of a specific plan and funding strategy is timely given the planning work being undertaken by Caltrain, VTA, California High Speed Rail and other agencies. However, political and community support will be needed to ensure that this corridor is adequately represented in these plans. In the near term, the Measure B program may provide a modest service expansion. Longer-term strategies will be guided by the direction established in the coming year through the Caltrain Business Plan, high-speed rail environmental documents and VTA planning studies.