Earlier this year, SPUR began planning its first ever regional strategy for the Bay Area, an aspirational vision of what the region could be like in the year 2070 and a roadmap for how to achieve it. We started by imagining four future scenarios — different possibilities of how the coming decades might unfold if current trends continue. Some of these scenarios were dark, but one — titled A New Social Compact — stood out as a hopeful vision for a prosperous, sustainable and socially inclusive region. Next we held workshops in San Jose, Oakland and San Francisco, where nearly 200 members of the SPUR community came together to help flesh out the New Social Compact vision. Participants shared their values and vision for the region, as well as ideas for how to achieve it. Here are some of the themes that emerged.
The Region Today
The Bay Area is losing what makes it special. When people talked about what they loved about the Bay Area, we heard a tremendous sense of loss and fear. Many talked about the region's natural beauty and their concerns about losing more and more of it to fire or sprawl. Some talked about an "erosion of community" and neighborhoods: "I grew up here, but I did not grow up in a place where people were living in tents and on the streets."
People are being excluded. In all three cities, people pointed to the fact that the Bay Area is an increasingly exclusive place. "It isn't becoming exclusive; it already is exclusive!" The dynamics of extreme inequality hurt everyone, but they are particularly punishing for people of color: "People of color are becoming extinct in the Bay Area." "Black spaces and communities are gone." People expressed this whether they were young or old, whether they were new to the Bay Area or longtime residents: "I'm a renter and I want to have a house and a family, but everything about this place is telling me I can't do that." "I am taking on loads of student debt that I will struggle with forever just to get my foot in the door, and that pushes you into only one kind of job."
Things are really good and really bad all at once. Some people felt that the Bay Area "is about to hit rock bottom" where others felt that the Bay Area was "a calm place in a dangerous world." People mentioned feeling like everything seems okay on the surface but "you don't have to look too hard to find things that make you uncomfortable." Or that there is a "facade of community — people look together but they are living totally different lives." Similarly, some expressed that there is an enormous sense of opportunity and excitement happening in San Jose and Oakland ("San Francisco is old hat, but Oakland is where it's at"), but that not everyone is sharing in those opportunities.
The region is not not living up to its own values. Many people talked about how the Bay Area is a place that believes deeply in social justice and environmental sustainability, but it is not making good on those values. Local communities have "a lot of youthful energy and diversity" and "talented and caring people" but can't seem to solve major problems at the scale or speed that is needed.
We rely on technology to solve problems instead of focusing on the basics. Participants commented the Bay Area has a lot of "science fiction, high-tech visions of the future that hurt our ability to actually plan for the future." Others added that "we are creating lots of private solutions to public problems without much accountability." Many of the current problems mentioned were things that could have been solved without technology: like creating great public spaces, prohibiting homes in fire-prone areas or funding affordable housing at the necessary level.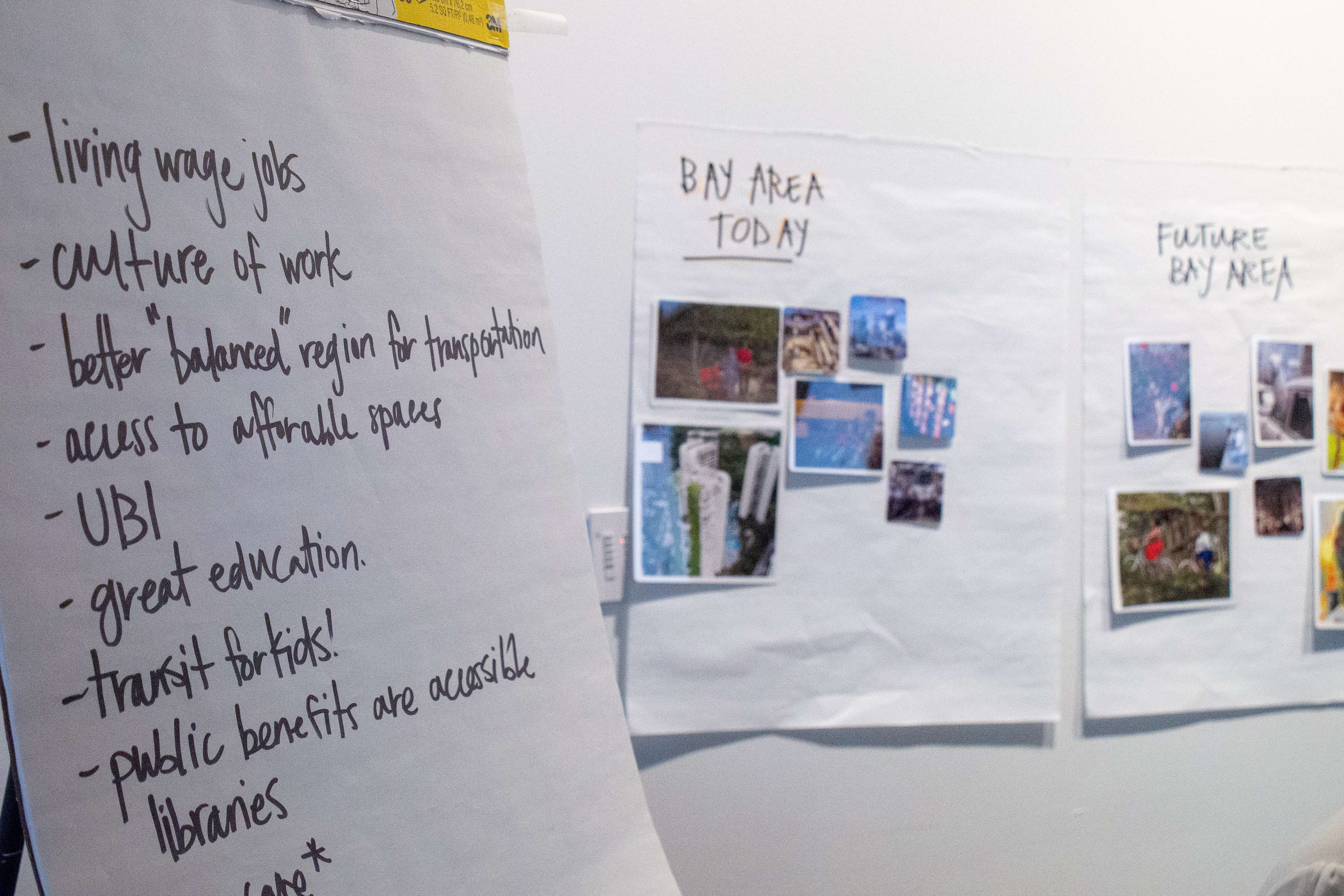 A Better Future
When participants talked about what they wanted the region to be like in 2070, they envisioned: 
A region that welcomes and houses all people. First and foremost, people said they wanted the Bay Area to be "a place where you can afford to raise a family." Together, groups brainstormed ideas to bring down the cost of housing and get more resources for permanently affordable housing and office space for small businesses, nonprofits and cultural organizations.
A region without extreme inequality. In addition to reducing the cost of living, people wanted the Bay Area to reduce income inequality and the hollowing out of the middle class. Groups said they wanted "the poor to start a life with us, among us" and for "all jobs to be paid well." Some mentioned the need to "reinvest the value that the region generates back into the region." Others suggested that they didn't want "shiny things" but "things like better paying jobs and free childcare."
Neighborhoods and cities where genuine connections can be made. People asked for more public places for "intentional and casual connections." The image that appeared most frequently in participants' vision for the future was a market, representing a place with diversity, abundance and lots of interactions between people.
A transportation network that works well and promotes opportunity and good health. Many people wanted to see a more complete transportation network that wasn't dominated by cars, including streets that are safe enough to ride a bike or skate without a helmet. Participants wanted to see more school buses and high-quality rail and bus systems, so that parents didn't have to spend all their time driving their kids around. People wanted transit to be "cheap or free and fun."
A region where people take care of each other and the environment.  Many said they wanted to see a region in which people take responsibility for each other individually and as communities, recognizing that this may mean making some hard choices. "Maybe you have less but the community has more" — more funding for teachers and schools, more water for future generations. Participants wanted people to feel responsible for keeping public goods reliable, comfortable and clean: "BART should be a holy place!"
Next Steps
Thank you to everyone who participated and shared in these three workshops. Hearing your lived experience helps ground and evolve our thinking about policy issues in the region and how to shape a better Bay Area for all. With your help, the Regional Strategy will to speak to and reaffirm Bay Area values for the century. Next, we will be traveling beyond our three cities to talk with more people. If you would like to learn more, please contact regionalstrategy@spur.org.
See photos from the events: