Why Brisbane Baylands Matters to the Bay Area Housing Shortage
By Kristy Wang, Community Planning Policy Director
The Bay Area's high cost of housing has a clear cause: Over the last several decades, we have not built housing commensurate with the growth of our population and economy. The solution is to build more housing — the problem is where to put it. The Brisbane City Council is scheduled to decide this summer whether to allow 4,400 housing units and 7 million square feet of commercial space within walking distance of an underutilized San Francisco Caltrain station. Seems like the perfect place for lots of homes, amenities and jobs, but so far the Brisbane Planning Commission has favored a low-density plan with no housing.
The Brisbane Baylands specific plan proposal covers 684 acres adjacent to San Francisco. The plan envisions 4,400 units of housing, 6 million square feet of office, industrial and R&D space, a grocery store, a pharmacy, retail, restaurants, a theater, more than 300 acres of habitat, new sports fields and active recreation opportunities, and a site dedicated to a future high school. The developer proposes to remediate the site's existing environmental contamination and envisions the project as a model of sustainability, incorporating renewable energy, innovative storm water management and LEED-rated or equivalent buildings.
SPUR supports this plan and encourages the City Council to adopt it.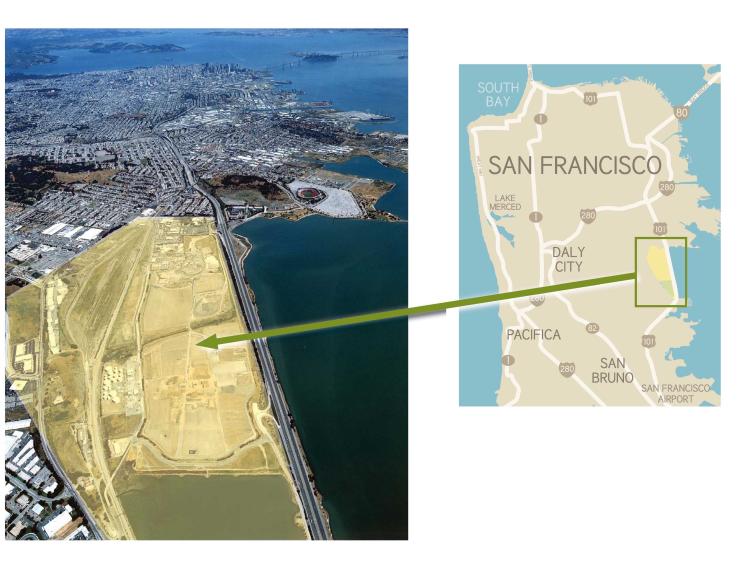 The proposed plan would add housing on the site of former railyards and jobs and amenities on former landfill, both near the Bayshore Caltrain station. Image courtesy Brisbane Baylands.

In a region where housing prices are sky-high and continuing to increase, too few jobs are located near transit, and we have collectively agreed to stop sprawling into farms and natural lands, there are few opportunities like this remaining. The Brisbane Baylands site is located by an underutilized regional transit station (the Caltrain Bayshore station), close to San Francisco's Muni metro transit system and adjacent to the 20-acre, nearly 1,700-unit, mixed-use Schlage Lock development proposal currently underway by the same developer. In short, the Brisbane Baylands plan is in an ideal place for transit-oriented mixed-use development.
So why might the City Council deny the plan? Opposition to the 4,400-unit Brisbane Baylands — in a town of 4,600 — has taken the predictable forms. Elected officials have heard concerns about traffic congestion, worries about fiscal impacts resulting from increased demand for services, suspicions about the efficacy of the proposed environmental remediation and a general opposition to changes in community character. This in spite of the fact that the Brisbane Baylands site is not well-connected to the existing Brisbane residential community and its downtown.
As a result, the decision to approve the plan has been 12 years in the making. The developer originally submitted a draft specific plan in 2005 and then submitted a new draft plan in 2010 in response to city-proposed alternatives. In 2016, after a year of informational hearings and another year of formal deliberations, the planning commission recommended denial of the proposed plan and recommended approval of a plan which would include no housing, up to a mere 2 million square feet of commercial space and a potential wind and solar farm.
The city council began its deliberations last September and is scheduled to make a decision in June or July.
SPUR believes that housing for Bay Area residents is a critical component of the Brisbane Baylands plan. The shortage of housing in the region is driving up rents and home prices and making it hard for an increasingly broad swath of households to live here. The Brisbane Baylands site, located at a regional transit stop and immediately adjacent to both San Francisco and Daly City, is the right place for both jobs and housing. And yet, given California's land use and tax policy, it is completely rational for the Brisbane City Council to make its decision based on the opinions of its 4,600 constituents rather than on the needs of the regional population.
Local land use decisions like these are being made all the time, all around the Bay Area, illustrating the "tragedy of the commons" that occurs when it is not in any single jurisdiction's interest to plan for and accept new residents.
Taking away local control over land use decisions, is not, on its own, the answer. Local communities ought to play a large role in determining their futures. But it's important to look at why jurisdictions so often don't or can't make the hard choices needed to solve our collective housing woes. When taken together, individual local land use decisions — however logical they may seem to a city — have added up to the Bay Area's housing shortage and the resulting affordability challenges we face today.
The Bay Area needs solutions that align our policies and incentives with the kinds of land use decisions that will help solve the regional housing shortage. Solutions may look like State Senate Bill 35, which streamlines the approvals process for multifamily housing in locations that have not planned for their fair share of housing, as long as the proposed project includes affordability requirements and prevailing wages. Or they may involve redistributing tax dollars differently to encourage cities to accept residential growth, or allocating transportation funds to jurisdictions that plan for and produce housing.
With up to 130 bills related to housing under consideration at the state legislature this session, the politicians and public already recognize that something needs to be done at the state level. We need those reforms and we need Bay Area residents and jurisdictions to think bigger. The Brisbane City Council should be bold and approve a Brisbane Baylands plan that includes housing among its uses. This site presents an opportunity for the region's future that we should not miss.