Thanks to all of you who stopped by our Open House at the County Fair Building last Saturday (05/10) and chose to spend the sunny morning with the Ocean Beach project teams!
For those who didn't make it or want to refresh your memory, you can view the presentation boards below. The boards present information on the three different Ocean Beach implementation studies currently in progress, as well as a summary of the Ocean Beach Master Plan process and its Key Moves.
Ocean Beach Master Plan Background Information
Ocean Beach Master Plan Key Moves

You can also view the animated video prepared by AECOM for the Open House, which displays the sequence of actions and coastal management measures at the South reach of Ocean Beach:
South of Sloat Coastal Management Sequence from SPUR OceanBeach on Vimeo.
We received a lot of valuable comments and ideas from all of you who attended the Open House and we will post all of them online in the coming weeks. In case you weren't able to attend our Open House and want to provide your feedback you can use the comment form from the Open House. You may either print it and mail it to us here at SPUR (654 Mission Street), or you can simply write your comments in an email to oceanbeach@spur.org until May 23rd.
Once again thank you all for your interest and participation!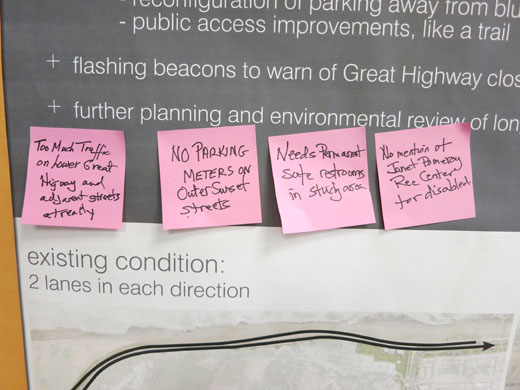 One of the ways to capture public feedback during the Open House was through post-it notes on the presentation boards. Image by Patricia Fonseca (AECOM).