How would you improve the transit system for neighborhoods in the northeast part of San Francisco? This was the key question SPUR asked at a transit planning workshop for the city's northeast neighborhoods last month. The workshop brought together representatives from key public agencies, North Beach and Fisherman's Wharf businesses, the tourism industry and neighborhood advocacy groups, as well as transportation professionals.
Neighborhoods in Chinatown, North Beach and other northeast environs are some of the densest in the city — similar in population density to the Upper West and Upper East sides of Manhattan. Sixty-eight percent of residents in the corridor from Chinatown to the waterfront do not own a vehicle. And Fisherman's Wharf enjoys 9 to 12 million visitors per year, meanwhile acting as a job center for thousands of workers. These levels of demand in a city are generally enough to warrant very high-capacity and high-frequency public transit. But public transit in this part of San Francisco is congested, unreliable and overcrowded. Existing routes also do not provide needed connectivity to growing job and activity centers to the west and to the south, such as SOMA.
 
Travel Times to Northeast Neighborhoods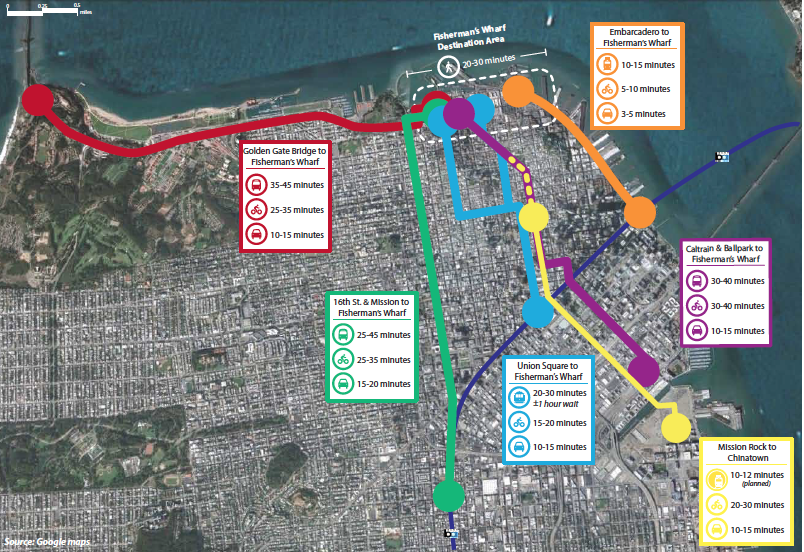 Despite their population density and their role as tourist destinations, San Francisco's northeast neighborhoods are inconvenient to access from most other parts of the city. Image source: Google Maps

The workshop allowed stakeholders to analyze their existing transit needs and imagine improvements. Participants raised many concerns with existing mobility and offered both short- and long-term actions that would improve the use of travel modes other than the car to get to or from northeast neighborhoods.
Suggestions included:
Creating transit "hubs" that would provide connectivity between modes and routes — for example, better connecting bus lines, streetcars and cable cars.
Better signage for transportation wayfinding, fare payment and station navigation, for both residents and visitors.
Improving transit service between Fisherman's Wharf and western neighborhoods such as the Marina, Cow Hollow and the Presidio.
Putting transit lines underground in order to better use narrow streets and sidewalks for other activities and amenities.
Advancing the E-Embarcadero project, which would extend streetcars from Fisherman's wharf to Fort Mason, a service that will be piloted during the America's Cup events.
Adding a North Beach station to the T-Third subway light rail line, which is currently planned to end in Chinatown.
Extending the T-Third light rail line to stations at Fisherman's Wharf and possibly to the west or down the Embarcadero.
Community and business representatives at the workshop generally agreed that the densely populated North Beach, Telegraph Hill and Russian Hill neighborhoods, as well as Fisherman's Wharf, would benefit from continuing the T-Third light rail line to provide a faster transportation choice for residents and tourists alike. Concerns with an above-ground extension were: making sure train length could be accommodated within the neighborhood block sizes, the need for a tunnel portal where the subway surfaces from underground, and visual or noise impacts. Challenges with continuing the underground subway included expense and the time required to fund and complete a project of this size.
The idea of a North Beach station was also discussed in some detail at the workshop. This concept drew attention after a recent controversy over the site for excavating the tunnel boring machines from the ground, originally planned for Washington Square. After local businesses disapproved of the long-term traffic disruption without any further benefit to the area, the San Francisco Municipal Transportation Agency agreed to revisit its plan and pursue a more suitable excavation site at the former Pagoda Theater. Now locals have suggested that the theater, closed since 1994, could make a good site for a North Beach station. The change in the excavation site has added $9.15 million to the Central Subway budget, which — at $1.6 billion — is already viewed as problematic by some.
SPUR has previously supported analyzing an extension of the Central Subway into North Beach and beyond in order to maximize operational efficiency of the T-Third line and provide much needed high-capacity transit service to those neighborhoods.