BART's Balancing Act: Ridership and Bike Access
By Jennifer Warburg
It's been an interesting month for BART. Not only did the transit system mark its 40th birthday on September 11, but during the week prior it experienced four of its top-ten most crowded days ever. Ridership exceeded 400,000 on three of those days, and the fourth, September 6, was a day with no special events to boost regular numbers.

BART's 10 All-Time Highest Ridership Days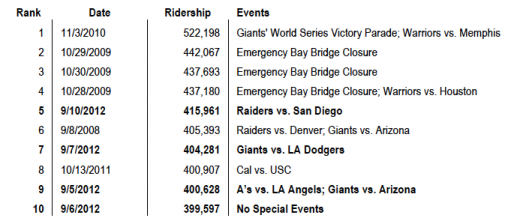 Chart courtesy Bay Area Rapid Transit (BART)

This explosion of ridership followed on the heels of a pilot project that, every Friday in August, lifted the commute-hour restrictions on bringing bikes onto BART. The experiment was a test of the feasibility of relaxing the existing rush-hour bike blackout, and by all accounts it went smoothly, aided by the generally low ridership of Fridays in August.
BART's bike plan, published in July, aims to double the number of passengers who reach the system by bicycle (from 4 to 8 percent) by 2022. The hope is to attract more bikes and fewer cars, which would reduce the need to build expensive car parking and contribute to regional goals to reduce traffic congestion and greenhouse gas emissions.
On its face, a plan to make trains more accommodating to bicycle commuters sounds great. But in terms of transit capacity, bikes present a challenge. One bike generally takes up the space of three people. And with ridership up, the system is increasingly struggling to fit commuters onto crowded trains and manage platform circulation during peak hours.
Transit best practices aim to maximize rider capacity in the most constrained parts of a transportation network. This usually means making more room for people on trains at peak times by removing the things — including seating and bikes — that reduce space for riders. This is the same argument that supports replacing automobile lanes with more room for bikes, which consume a tenth of the road space per person that cars do.
BART Manager of Access Programs Steve Beroldo acknowledges that the more crowded the system gets, the more difficult it is to accommodate bikes. He says some of the first lessons BART is taking away from the pilot concern ways to make more room for bicyclists by removing seats near the doors in all cars and encouraging modifications to queuing on platforms, in order to improve flow.
Optimizing bicycle accommodation on board trains is only one of BART's strategies to improve bike access. Others include improving cyclist circulation within BART stations, increasing the amount of bicycle parking, helping to assure bicycle access beyond BART's boundaries and supporting programs to encourage bike safety and awareness. SFStreetsblog provides great analysis of the plans, noting its emphasis on expanding secure bike parking.
For everyday commuting, secure, sheltered bike parking is a strategy many modern countries prioritize. The Dutch rarely allow bikes on any of their trains, instead providing abundant secure, affordable, front-door bike parking at almost all rail stations. BART's bike plan notes that "providing plentiful and convenient bike parking is also the most effective tool BART has to encourage as many passengers as possible to leave their bicycles at the station, rather than bringing them onboard." Bike stations at Embarcadero, Downtown Berkeley and Fruitvale BART stations are a small start toward an excellent network of bike-parking facilities. Additional bike-parking at Civic Center is expected to come online by the end of the year.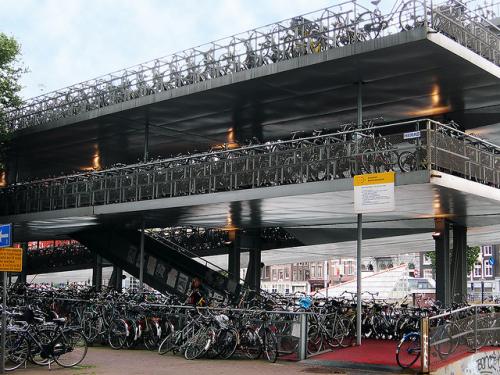 Bike parking in Amsterdam. Image courtesy Flickr user Crystian Cruz

A strong regional bike-sharing program could also play a role in improving the number of users who reach BART by bicycle without needing to bring their bikes onto trains. Washington, D.C., Paris, Montreal and other cities have demonstrated that bike-sharing programs work very well in conjunction with transit, particularly for irregular trips (errand-running, meetings, etc.). According to Peter Harnik, a longtime biking advocate with the Trust for Public Land, "The bike-sharing program in D.C. has been spectacularly successful and is physically transforming the area into a much more bikeable and bike-friendly region." So far, BART's approach to bike sharing has been to adopt a wait-and-see approach as a long-anticipated regional pilot gets underway this year in San Francisco, San Mateo and Santa Clara counties.
On its first day of operations in 1972, BART drew 15,000 riders. To transit advocates, it's encouraging to see the great growth in ridership numbers that had led to the 415,000 experienced on Monday of this week. Getting more people to leave their cars at home and ride transit is good for public health, equity, environmental quality and productivity.
But as BART looks forward to hitting 500,000 riders in one day, we have to weigh carefully how bikes are integrated with increasingly crowded trains. The reality of the Bay Area's development pattern is that, after their transit trip ends, people will often still need to travel several miles to their final destination. Our mild weather makes bicycling a great way to solve this "last mile" problem. Whether we redesign future BART cars to hold more bikes during peak hours or instead focus on a better system of secure bike parking or bike sharing at stations is an important debate.