A Walk Down Market Street
By Jeffrey Tumlin
For the July issue of the Urbanist — on how to transform Market Street — we asked Jeffrey Tumlin, principal at transportation planning firm Nelson\Nygaard, to take us on a tour of Market Street's history. To learn about plans for Market Street today, read the July Urbanist.
In 1847, Captain John Montgomery's band of occupying forces gave the scruffy Mexican settlement of Yerba Buena a new name, San Francisco, claiming the town for the United States and bringing its population to just under 500 souls. California wouldn't officially be part of the United States until the following year, yet its citizens had ambitions. Despite the lack of a freshwater source or year-round overland connections, San Francisco's leaders decided they needed a new street and block plan to accommodate the slow but steady stream of new immigrants. They hired hard-drinking Irishman Jasper O'Farrell to do the job. One of O'Farrell's challenges was to resolve the north-south street pattern established by the Spanish with the southerly settlement of Happy Valley, whose streets branched off Yerba Buena Cove at a northeast-to-southwest angle. His solution: Market Street, named in honor of William Penn's Market Street in Philadelphia. Certain that San Francisco would one day be grander than bustling Philadelphia, O'Farrell made our Market Street 120 feet wide — 20 feet wider than Philly's. Platted for only six blocks, Market aimed ambitiously across the sand dunes for Los Pechos de la Choca, "the Breasts of the Maiden," which we now call Twin Peaks.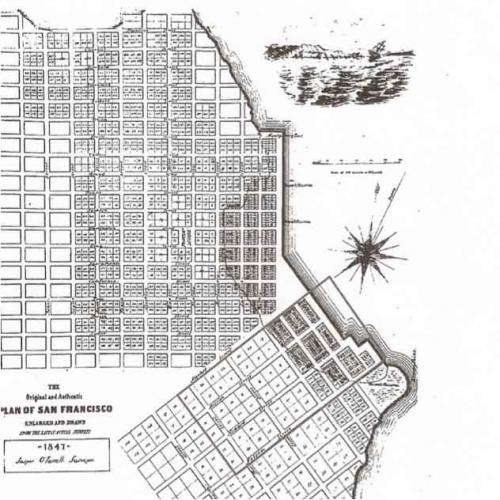 With the discovery of gold in 1848 and a huge influx of immigrants in 1849, San Francisco boomed, and the overscaled 120-foot grand boulevard became less absurd and more practical, connecting the Ferry Building to growing neighborhoods via horse-drawn streetcar, then four clattering cable cars. But growth was interrupted in April of 1906, when a magnitude-7.9 earthquake struck two miles offshore. After three days of raging fires, an estimated 250,000 people were homeless and 514 city blocks were destroyed. Almost everything on Market Street burned, from Van Ness Avenue to the Embarcadero. Lotta's Fountain, one of the few remaining structures on Market Street, emerged as a gathering place and bulletin board where the lost and dispossessed left notes in hopes of reuniting with loved ones.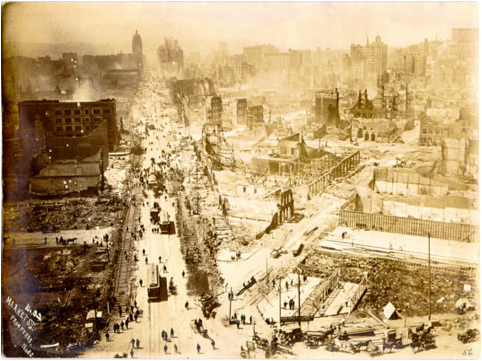 San Franciscans quickly rebuilt their beloved city after the disaster, and Market Street grew as the center of action like never before. The horse-and-buggy era faded, and electric streetcars replaced cable cars on Market Street. By the 1920s, Market Street was renowned as one of the great streets in the world.
But the 1950s and '60s were disastrous for cities throughout the United States, and while San Francisco suffered less than most, Market Street went into decline. Suburban attitudes of order, separation and automobile accommodation were inflicted upon Market Street, unintentionally worsening conditions for urban success. In 1963, the grand Fox Theatre was destroyed to make way for the bleak, empty, windswept spaces of Fox Plaza.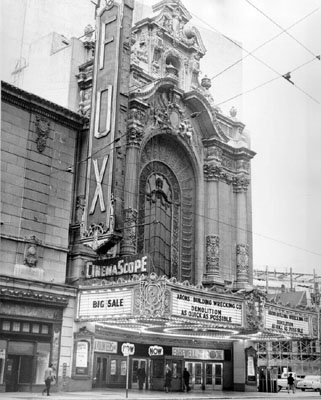 As the decline continued, every decade saw a radical new plan for "saving" Market Street, including SPUR's 1962 plan for monorails and sunken hanging gardens down the middle of the street.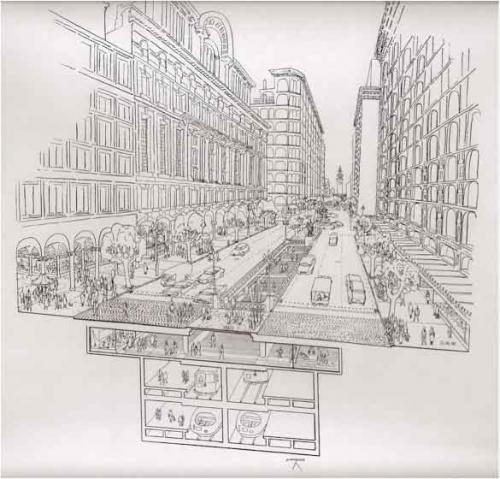 One of those grand ideas, the BART system, opened in 1972 after six years of disruptive construction tore up Market Street.
The construction of the Embarcadero Freeway, perhaps San Francisco's most unfortunate piece of transportation infrastructure, compounded Market's troubles in the late 1950s.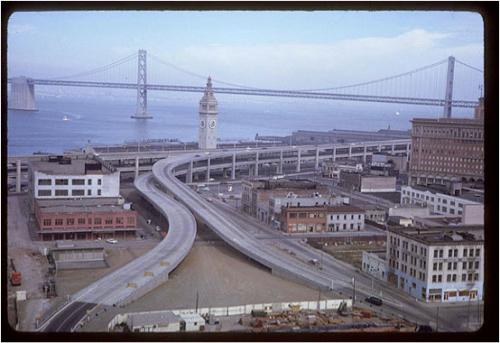 But the 1989 Loma Prieta earthquake gave the city the opportunity to rethink this choice and replace the unfriendly overpass with a public plaza.This urban-planning success story offers inspiration for future transformations that could restore Market Street to its proper stature.
Read about upcoming plans for Market Street in the July Urbanist >>