Parklet Request for Proposals Announced by SF Planning Department
BY KIT HODGE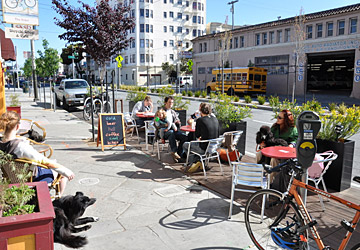 The Divisadero Street parklet in front of Mojo Cafe.
Last Friday at a noontime forum at SPUR, the San Francisco Planning Department announced the release of a Request For Proposals for parklets, due October 18. Anyone interested in installing a parklet in front of your business or institution should download the application and program overview here. Pass along the information to businesses and other institutions that you think could be good parklet hosts. October 18th is right around the corner!

Spearheaded by the Planning Department's Pavement to Parks Program, parklets offer a unique opportunity to widen a sidewalk, providing public space for people to sit and relax. The SPUR forum was designed to help business owners and other potential applicants learn more about the parklet RFP.
To learn more about existing parklets, click here.
To learn more about the impact of parklets, click here.
For any questions or information, e-mail Kit Hodge at kit AT sfgreatstreets DOT org. The SF Great Streets Project is a collaboration between SPUR and the San Francisco Bicycle Coalition.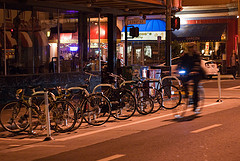 If a parklet isn't the right fit for you, consider a bike parking corral, which provides on-street bike parking in front of businesses and organizations that expect significant bike traffic. The City installs corrals at no cost to the applicant, but you are expected to provide ongoing maintenance. Download the simple application here. The San Francisco Municipal Transportation Agency accepts applications on a rolling basis.