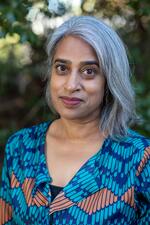 Sujata Srivastava
San Francisco Director
Local Impact, San Francisco
SPUR policies, positions, fundraising and media inquiries in San Francisco
As the San Francisco Director for SPUR, Sujata works with stakeholders and community members to implement policies that will advance equity, sustainability, and prosperity in San Francisco. Sujata has over 20 years of experience directing research and policy analysis for cities and regions across the United States. Before joining SPUR, she was a principal at Strategic Economics, a Berkeley-based urban economics consulting firm. In this role, she led many of the firm's affordable housing, transit-oriented development and economic development projects.
In her career as a consultant, Sujata gained a reputation for her ability to make complex technical studies accessible to the wider public. She is most proud of her work for the City of San Pablo, where her research, combined with a robust and bilingual community engagement process, led to the adoption of a holistic set of strategies to improve housing affordability and protect vulnerable renters in the community.
Raised in Brazil and the United States by Indian immigrants, Sujata strives to bring a global perspective to her work as an urban planner. Before Strategic Economics, she was a Senior Associate at AECOM | Economics Research Associates, where she advised public and private-sector clients on urban planning and real estate projects in the U.S. and Latin America. Sujata holds a Master's degree in City Planning from the University of California at Berkeley and a B.A. from Mount Holyoke College.