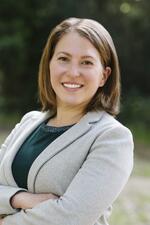 Laura Tolkoff
Transportation Policy Director
Policy
Strategic policy direction, project and process design, transportation policy, infrastructure planning and delivery
Laura is SPUR's transportation policy director. She believes that a sustainable transportation system is the scaffolding for a society that cares for the environment, that embraces public life and that is healthier, more just and more prosperous. In addition to overseeing SPUR's transportation portfolio, her areas of focus include public transit, land use integration, project delivery, governance change and interregional coordination. Laura has worked for SPUR since 2015 in various roles, overseeing several strategic local and regional initiatives and as SPUR's first San Jose policy director (2015-2017).
Prior to joining SPUR, Laura held a senior role managing the energy and environment program at Regional Plan Association (RPA) in the New York Metropolitan area during and after Hurricane Sandy, spearheading federal, state and regional reforms, and working in coalition to launch a federal design competition that brought over $1 billion to local climate resilience projects.
Laura earned a master's degree in urban and environmental policy and planning from Tufts University and a bachelor's degree in media studies from UC Berkeley. She is an American Leadership Forum senior fellow and was named to Mass Transit magazine's "Top 40 under 40" in 2019.