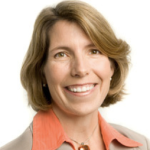 Jean Fraser
CEO, The Presidio Trust
Executive Board Director, San Francisco Director
Jean S. Fraser has dedicated her career to fostering healthy, equitable and sustainable communities. Currently, she is the Chief Executive Officer of the Presidio Trust, a federal agency that brings alive the Presidio's historic, natural, and recreational assets for the benefit of all.

Since arriving at the Presidio Trust in 2016, Jean's focus has been on making the Presidio a place where people of all backgrounds and abilities -- particularly those now underserved by national parks -- find inspiration, recreation and relaxation. She brings a special passion for protecting the Presidio's open spaces and for sustainability practices that aggressively reduce waste, water use, and greenhouse gasses. The park's "green" practices have garnered numerous awards, including the US Environmental Protection Agency's 2017 Federal Green Challenge.

Jean champions the use of data and continuous improvement techniques to help the Presidio Trust deliver efficient and quality service to the public. Under her leadership, she has deepened the Presidio Trust's relationship with the key partners who jointly deliver the Presidio experience to the public, the National Park Service and the non-profit Golden Gate National Parks Conservancy. After winning the National Park Service Director's Partnership Award in 2017 for the jointly planned and operated Presidio Visit Center, the agencies are now working together to create the Presidio Tunnel Tops, adding 14 acres of parkland by building over a state highway.

Previously, Jean led the San Mateo County Health System and the San Francisco Health Plan, which developed a first-in-the-nation program providing affordable health care to all uninsured San Franciscans. She also served as a Deputy City Attorney in the San Francisco City Attorney's Office.

Jean is a graduate of the National Outdoor Leadership School (NOLS) and has hiked and camped in many of our national parks. She lives in the Presidio with her husband and her two children. Jean has a degree in American history from Yale University and a JD from Yale Law School.