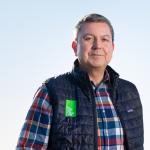 Guillermo Rodriguez
California State Director, The Trust for Public Land
San Francisco Director
Guillermo Rodríguez is the California State Director and Vice President Pacific Region (Washington, Oregon, California and Hawaii) for The Trust for Public Land. Guillermo is responsible for developing, managing and leading the Trust's conservation land acquisitions, park development and policy activities throughout the pacific region.
Before joining The Trust for Public Land, Guillermo worked for the City and County of San Francisco starting his public service career with Mayor Gavin Newsom where he was responsible for local hiring programs, workforce development and the CityBuild program. Guillermo continued with Mayor Ed Lee as the Policy & Communications Director for the San Francisco Department of the Environment working across city departments to advance and implement local climate policies.
Guillermo serves on the board of directors for Justice Outside, Brightline Defense Project, and the University of California Natural Reserve System Capitol Committee. He previously served on the boards of Chinese for Affirmative Action, Meals on Wheels San Francisco, Mono Lake Committee, and Trustee with the California State Parks Foundation.