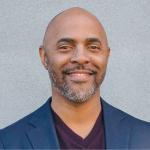 Chris Brown
Senior Vice President, U.S. Business Partnerships & Policy, Citi
San Francisco Director
Chris Brown is the Senior Vice President for U.S. Business Partnerships & Policy at Citi, leading key ESG strategies within Global Public Affairs. He brings over 15 years of multi-sector experience developing alliances that advance business, public policy and consumer/community goals. After serving as senior staff in Congress, Chris has led public affairs functions within healthcare, nonprofit, and technology arenas.
Since 2007, Chris has launched campaigns to enact over 50 policy reforms across local, state and federal governments. As Counsel for the U.S. House Committee on Education & Labor, he drafted federal workforce protection policies; and as Legislative Director for U.S. Rep. Bobby Rush (IL), he drafted key provisions of the Affordable Care Act of 2010, the Wall Street Reform Act of 2010 (Dodd-Frank), and worked on global trade issues.
In 2011, Chris led international expansion efforts for a global development firm under the U.S. - Panama Trade Promotion Agreement. He later returned to Washington to become the inaugural Director for Federal Affairs at PolicyLink, a national research and action institute for racial and economic equity where he led efforts to secure over $1.2B in federal funding for economic development programs, and created the organization's portfolio on tax & financial policy. While there, he also helped establish Citi's national community advisory board.
Chris was later named Sr. Counsel for Bird, a global electric vehicle technology company where he led government and community partnerships across the west coast. At the onset of the COVID crisis, Chris became the inaugural Chief of Policy & Communications at PRC, a premier health and human service provider for the City of San Francisco supporting the city and California's economic and health recovery efforts of 2020 and 2021.
Prior to joining Citi, Chris advised a variety of corporations, foundations, governments, and political campaigns, including the Economic Policy Advisory Councils for Hillary Clinton in 2016, and Joe Biden in 2020.
Chris holds a BA from the University of Georgia, and a JD from DePaul University College of Law in Chicago. He serves on several boards, including: Institute on Taxation and Economic Policy (ITEP); The University of Georgia School of Public & International Affairs (SPIA); Local Initiatives Support Corporation (LISC); SPUR - San Francisco; and the University of California's Council on Small and Disadvantaged Businesses.
Chris is based in San Francisco, and is featured and published in a variety of policy and media outlets.