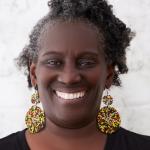 Carolyn Johnson
Chief Executive Officer, Black Cultural Zone
Oakland Director
C.J. joined the East Oakland Black Cultural Zone Collaborative in 2019 as its first Executive Director and is the founding CEO of the Black Cultural Zone Community Development Corporation, which was formed in 2020 by the Collaborative. She has more than thirty years of experience in entrepreneurship and business management, non-profit operations, finance and commercial real estate including development, financing, and brokerage. She is a native of Oakland, California and a proud graduate of Castlemont High School. She brings to the Black Cultural Zone her homegrown knowledge of East Oakland, where she was born and raised, and her entrepreneurial, management, and transactional experience garnered within the Bay Area.

C.J. is an entrepreneur and has worked directly with entrepreneurs and small business owners at several leading technical assistance providers in the area, including the Alameda County Small Business Development Center, Women's Initiative for Self Employment, and CEO Women. As a manager, she created the Consulting and Grants Programs at Community Visions (formerly Northern California Community Loan Fund), as its first Director, including the Facility Fitness Nonprofit Commercial Real Estate Training Curriculum and Pre-Development Support Programs like orgspaces.org (a predecessor to Spacesforgood.org). At Community Visions, C.J. was also involved in underwriting, funding and providing consulting expertise for Cultural Hubs and Nonprofit Commercial Development projects in San Francisco, Oakland and throughout Northern California, including the Museum of the African Diaspora, Youth Radio, Eastside Arts Alliance, and Destiny Arts Center, with a combined development project value in excess of $300 million.

As a Broker, she has completed over $250 million in Investment Sales transactions and has leased hundreds of spaces throughout the bay area, particularly Oakland. Most recently, she was the Broker and Director of Commercial Real Estate at the East Bay Asian Local Development Corporation, a leading Bay Area affordable housing developer. In this role, she managed commercial investment sales, marketing and leasing, development, facility management, financial management and property operations. Currently, in addition to her role with the Black Cultural Zone, she is a tenured Professor at the College of Alameda in the Business Department and has launched the Peralta Community College District's first fully online Entrepreneurship Certificate Program.

C.J. has a Bachelors of Arts in Psychology with a specialization in Business Administration from the University of California at Los Angeles; a Master of Public Health in Health Policy and Administration from the School of Public Health at the University of California at Berkeley; a Master of Business Administration (with Honors - Beta Gamma Sigma) in Marketing, Corporate Finance and Real Estate Finance from the Columbia University Graduate School of Business; and her Doctorate (EdD) in Educational Leadership from Saint Mary's College of California.