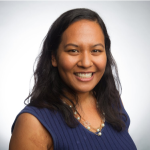 Camille Llanes-Fontanilla
Vice President - Silicon Valley Programs, Sobrato Family Foundation
Executive Board Director, San José Director
Camille Llanes-Fontanilla leads the Silicon Valley Programs team as the first Vice President for Sobrato Philanthropies.
Prior to entering philanthropy, Camille was the Executive Director of SOMOS Mayfair, a grassroots organization embedded in East San Jose. During her 11 year tenure, Camille leveraged her understanding of community needs and assets to build a unique organization and culture based on resident-led solutions. Her leadership yielded sizable growth, built deep community partnership; raised over $30 million for the neighborhood; and advanced lasting policy change.
She has 20 years of experience in nonprofit management and has extensive executive training from Harvard Business School, CompassPoint Next Generation Leaders of Color, Rockwood Art of Leadership, and On the Verge.
Camille serves on the Board of Directors for The Health Trust and SPUR San Jose; and is a founding member of the Si Se Puede Collective.
She holds a Bachelor's Degree in Mass Communications and a minor in Ethnic Studies from the University of California, Berkeley and a Master's degree in Public Administration from San Jose State University.
Camille was born and raised in East San Jose where she remains deeply rooted, continuing to raise two young children there with her husband, Ryan. She remains authentically committed to working alongside her neighbors to collectively address the most pressing social justice issues and co-create a better future for our communities.