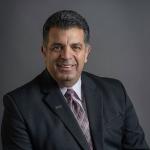 Ben Tripousis
Associate Vice President and Senior Program Manager, HNTB
San José Director
Ben has served as Associate Vice-President and San Jose office Group Director with HNTB, a national architecture and engineering firm for nearly four years where he is working in the South Bay on a range of infrastructure projects. These projects include the Capitol Corridor South Bay Connect rail project, the US 101/Berryessa/Mabury Interchange Improvement project, BART to Silicon Valley Phase II, and the California High Speed Rail project.

Prior to joining HNTB Ben served as the Northern California Regional Director for the California High Speed Rail Authority and was responsible for the development of the California High Speed Rail project in Northern California. This includes the electrification of the Caltrain Peninsula Corridor project, Environmental clearance of the San Francisco to Merced project segment, and the future High-Speed Rail connection to Sacramento. In addition, Ben oversees the development of Regional Rail Improvements to the Capitol Corridor, Altamont Commuter Express (ACE) and the San Joaquin Regional Rail systems. Ben has also served as an Adjunct Professor at San Jose State University, teaching High Speed Rail Management and Operations in the Master of Transportation Systems Management program, and has served as the Director of the High-Speed Rail Connectivity Center at the Mineta Transportation Institute.

Previously Ben served as Transportation Policy Manager for the City of San José; Serving as the City's liaison to all local and regional transportation agencies where he helped craft regional planning and funding policies for the 100 cities and nine counties in the Bay Area and helped lead the development of long-range transportation policy for Santa Clara County. Ben is a graduate of the University of California at Berkeley and has a master's degree in public administration from San Jose State University.