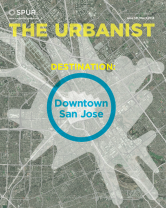 Six ideas for strengthening the urban center of the South Bay. Excerpted from the SPUR report "The Future of Downtown San Jose."
Armed with an iPad, an architect creates vibrant portraits of some of Oakland's most treasured historic buildings.
100% Audible radio host muses on toothbrushes, reinforced concrete and a secret kept by Pittsburghians.