Member Profile: Gavin Belson of HBO's Silicon Valley
Making the world a better place, one juice bar at a time.
September 21, 2016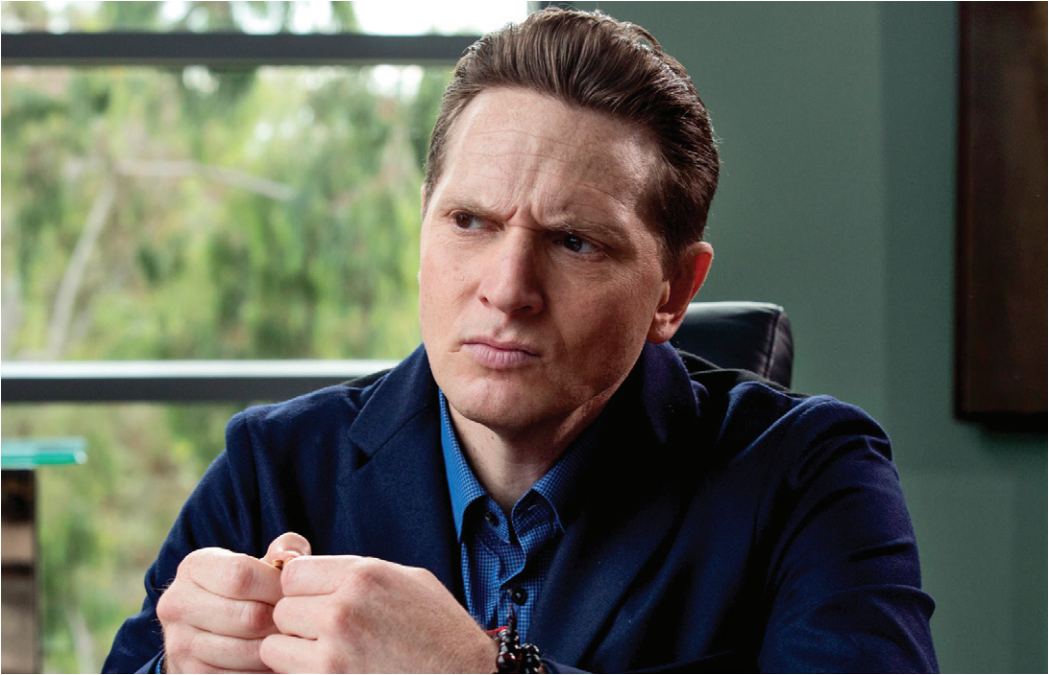 No show better captures the current milieu of Silicon Valley better than, well, HBO's Silicon Valley. The show's Google doppelganger, Hooli, is led by CEO Gavin Belson, a painfully un-self aware CEO who employs a fulltime guru and has been known to use an endangered elephant to make a point at a Hooli board meeting. His philosophy is perhaps best summed up in the quote: "I don't want to live in a world where someone else is making the world a better place better than we are."
We were lucky enough to grab a few minutes of Gavin's valuable time to talk about the future of the corporate campus.
[In real life, Gavin is Matt Ross, an actor, director and screenwriter who, in addition to Silicon Valley, was in Big Love and such films as Good Night and Good Luck and The Aviator. The film Captain Fantastic, which he wrote and directed, opened in July. Matt lives in Berkeley. He is a SPUR member; Gavin is not (yet).]
So Gavin, for the one percent of people unfamiliar with Hooli, what does the company do?
Hooli makes the world a better place. Literally.
Through the use of our innovative technology, our goal is nothing short of making life better for every single human being on the planet Earth.
What's your mission?
Our mission is nothing short of altering the arc of human history through our elegant and innovative technology.
Who are your employees?
In short, everyone. Our employees are the best and brightest from every country in the world. Black, white, tall, short, young, old. Well, not very old.  Most of our employees are in their early 20s, come to think of it. But there is one guy in his 60s. Actually, thinking about it now, I haven't seen him in a while. Maybe he's dead. Honestly, I can't be sure. Our work force is so big, I rarely see the same people twice. Hmmm. Death is sad.
Tell us about your office. Do you share Mark Zuckerberg's affinity for being in the center of it all? Or are you more old school?
I like to think that I'm New Old School. My personal office is more like a sanctuary for deep contemplation than anything resembling a traditional "work space." For me personally, a space in which to do anything other than meditate deeply on the real problems that face the human race is an antiquated and spiritually bankrupt model.
I'm sure Mark has his own reasons for being in the center of his engineers, but [I believe] there needs to be a leader, someone with the distance, the birds-eye view, someone who can be the grownup in the room.
I am that grownup.
Where is the Hooli campus?
Here at Hooli, we take security very seriously so sadly, I am not at liberty to reveal the exact location.
We have offices in every country in the world, apart from North Korea, of course. Suffice it to say that our main campus is located here in California.
There are only a handful of areas in the US designated as permanent prohibited areas, "no-fly zones," including Washington D.C., and the White House, a few military bases, the Presidential retreat, Camp David, and of course, Disneyland. I'm proud to count our illustrious campus among that elite group.
Tell us about it...urban/suburban? Highrise?
Believe me, it's not easy to hide over 6 million square feet of research facilities, private airstrips, helicopter landing pads, and underground parking lots from prying eyes. Fortunately, our use of advanced military technology makes this possible. Which was not inexpensive, I can assure you. It took enormous patience and vast sums of money to negotiate with intrusive and interfering federal governmental bodies.
What I can say is that our campus allows our workers total focus. There really no longer is any need to leave. Ever. And I mean that. Literally.
We have over 10,000 private, individual sleeping pods, 100 "eating experience" locations, 53 vegetable and juice bars, 14 gymnasiums with swimming pools, 6 full-court basketball courts, 12 yoga and pilates studios, 34 movie theaters and 23 child-care facilities.
Most coveted amenity?
We have the most efficient employee shuttle system on earth.
Our buses are private, air-conditioned, and armored. They have been entirely redesigned to seat a single person. This requires us to have tens of thousands of buses and hundreds of acres of parking lots and private electric "filling" stations, of course, but allows each employee their own private "pod." Our research has indicted that worker productivity has skyrocketed because of this new system and vastly outweighs whatever environmental cost this fleet of private buses may create.