Urban Field Notes: The Art Underground
A designer urges the Bay Area to take a lesson from the London Tube and transform its transit experience into something inspirational.
March 8, 2013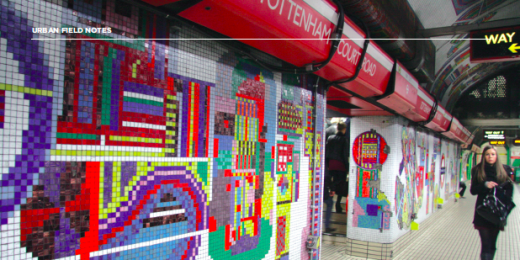 Reading ultra-short illustrated Sherlock Holmes stories or being inspired while watching the short film "Who Is Community?" — these are just some of the unexpected pleasures I've encountered during the seemingly banal routine of daily commuting on the London Underground.
I moved to London from San Francisco in late 2012 and am currently exploring the city as a base for my design shop. Having commuted in San Francisco for years, I now wonder, as I jump on the Central Line at St. Paul's, why I was never as engaged by the Bay Area's public transportation system as I am by London's. I dream that San Francisco is on its way to re-envisioning its underground and over-ground transportation channels as public cultural and artistic hubs. This could soon be a reality due to the efforts of organizations such as SubArt, which is working to reinvent the mass transit experience in San Francisco by using art to transform BART and Muni metro stations. I believe that collaboration between the technological and creative communities of the Bay Area region could turn commuting into another world-class daily commuter experience, increasing ridership while creating more jobs.
Until then: London. The art of the Underground is immense not only in its breadth but also its depth — similar to the architectural nature of the system, with its 249 miles of track carrying 1.1 billion passengers each year between 270 stations. Below are some of my favorite projects: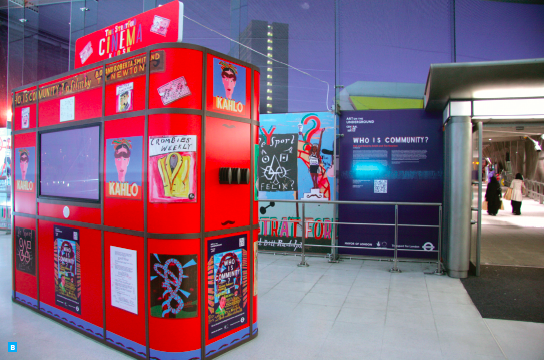 [B] Short films like "Who Is Community?" are screened in colorful kiosks on the Central Line.

[C] "Acts of Kindness" by Michael Landy. This Liverpool Street Station installation on the Central Line celebrates everyday generosity and compassion on the Tube.
[D] Artist Anna Barham's "White City" at White City Station delves into her interest in constructing meaning through language.
[E] Sarah Morris' abstract minimalism is on view at the Embankment Station.

[F] At Bethnal Green Station, "A Lock is a Gate," led by artist Ruth Ewan with composer Kerry Andrew and poet Evlynn Sharp, interlaces sounds, songs and drawings, enabling young voyagers to share their dreams for a better world.
[G] London's largest public projection screen presents leading contemporary and historical artists' moving images at the Canary Wharf Station.