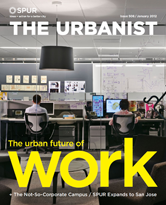 Innovative high-growth companies look to urban-style experiences to energize their workforce
Traditionally, we think of the workplace as the office: an interior space filled with desks and conference rooms. But a growing number of Bay Area companies are focusing on the context — the spaces outside and in between the buildings. The new workplace is wherever and whatever the workforce experiences.
Read More »
An inside view of the opportunities for change that led us to open an office in Northern California's largest city, San Jose.
When a civic group with more than a century of experience working in San Francisco expands to a new city, it's a very big deal. What led SPUR to open an office in San Jose? Since our founding as the San Francisco Housing Association in 1910, we have worked on regional issues. The organization's first campaign was the passage of the California Tenement Housing Act, which was actually a change to state law, motivated by the need to improve housing conditions following the 1906 earthquake. SPUR assisted in the planning of BART and helped form the San Francisco Bay Conservation and Development Commission (BCDC). We were instrumental in establishing the Golden Gate National Recreation Area. We have been involved with the major decisions faced by the Metropolitan Transportation Commission (MTC) and the Association of Bay Area Governments (ABAG) over the years. Throughout our more recent history, SPUR has promoted compact...
Read More »
How denser, more urban workplaces will strengthen the Bay Area's economic competitiveness
As the Bay Area's economy changes, many firms are finding they need the vibrancy and density of an urban-style environment in order to collaborate, innovate and stay competitive. There is a strong link between density and job growth. In fact, we believe that locating jobs closer to transit — and closer to one another — will be key to the Bay Area's long-term economic growth.
Read More »