Issue 498
November 2010
to
December 2011
---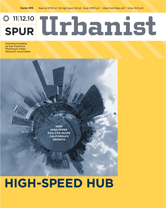 We can credit William Howard Taft for giving San Francisco the title of "The City That Knows How," and in reality San Franciscans usually get what the city planners have up their sleeves. In 1902 they made a law — no more burials within city limits, followed by an even more restrictive law in 1910 — no more cremations. An additional requirement was that all graves be dug up and relocated to the tiny town of Colma. You may hear other stories, but the accepted rationale was that the city only had 49 square miles and needed every bit for more profitable (and taxable) ventures. After completing the arduous task of moving thousands of bodies, the 27 acres of the original Odd Fellows Cemetery was quickly replaced with streets and housing. But the Columbarium, an imposing and solidly built repository-of-ashes, still stood at the end of Loraine Court. Seemingly a bit out of place in the center of progress, the Columbarium survived a City Hall skirmish to achieve landmark status in 1995, and it and its 7,000 "residents" remain.
Read More »
How smart land-use planning around future high-speed rail can reshape California's growth
For the 26 California cities designated as future high-speed rail stops, the new statewide system presents a once-in-a-century opportunity to reshape their local economies and set the course for more compact, less automobile-dependent growth. Beyond the Tracks identifies specific land-use planning strategies that will contribute to the success of high-speed rail and help cities, and ultimately California, realize the full potential of the multi-billion-dollar system.
Read More »