Tearing Down Seattle's Alaskan Way Viaduct: Lessons for Oakland
In Seattle, a major infrastructure transformation is taking place.
By Robert Ogilvie
July 31, 2017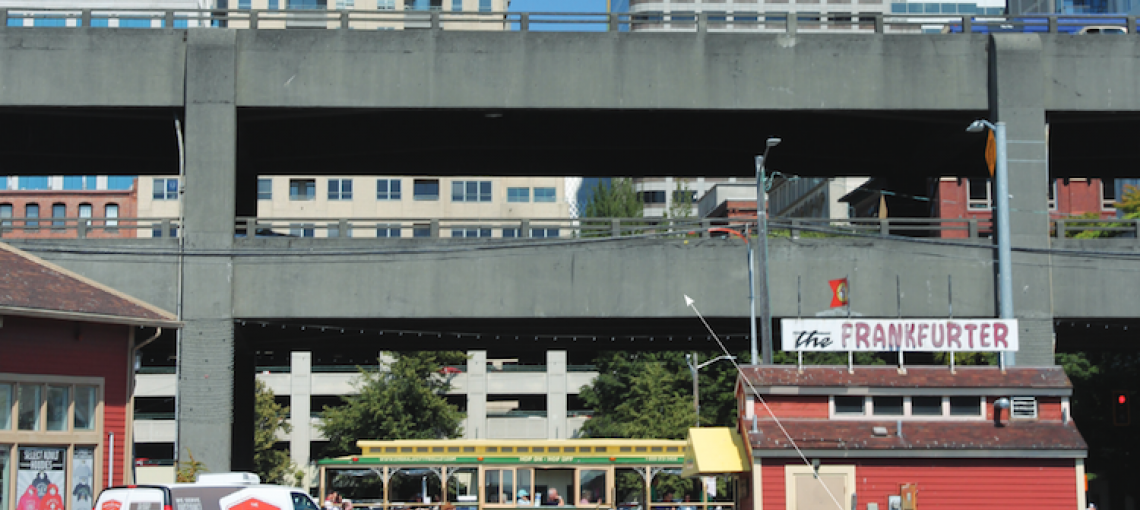 Imagine that you live in a great American city, one with a bustling seaport that has a long and colorful history and which has been an integral part of your city's image. Now imagine that after 50 or so years of being cut off from the rest of town by an elevated freeway that was built in the middle of the 20th century, some people in your town suggest that the freeway should be torn down and replaced with a tunnel so that your iconic waterfront can be reconnected to the rest of the city. Naturally, few people take this idea seriously, and most of those who do quickly dismiss it as too costly, too complicated, too controversial or just impossible to pull off.
Of course, I am writing about Oakland but I could just as easily have been writing about Seattle — except that Seattle has gone ahead and done it. If they can do it, we can, too.
The case for removal
Since 1953, the elevated, double-decker Alaskan Way Viaduct has been a prominent feature of Downtown Seattle. Along with Interstate 5, it is one of two high-speed routes for cars and trucks to bypass the down-town traffic. Approximately two miles long and four stories tall, it carries 110,000 vehicles per day and is a vital part of Seattle's infrastructure. Unlike the less obtrusive I-5, though, the Alaskan Way is an eyesore that cuts off Downtown Seattle from its waterfront. Even those who built it conceded that it was unattractive, yet there was no thought of replacing it until February 2001, when a 6.8 magnitude earthquake struck Seattle, causing the viaduct to sink several inches and weaken to the point of near collapse. This made replacement necessary.
In the Bay Area, there was an earthquake as well, of course. It resulted in the collapse and eventual rerouting and replacement of the double-decker Cypress Structure that ran through the heart of West Oakland and the tearing down of the Embarcadero Freeway in San Francisco. The downtown section of Interstate 880, which is also elevated but isn't double-decker, survived the 1989 earthquake and wasn't replaced. Like so much of California's freeway infrastructure, though, 880 is now nearing the end of its expected life.
Managing a major transportation infrastructure project in a major city 
After studying more than 90 alternatives over the course of eight years, under intense public scrutiny, Seattle opted for a replacement tunnel because it was the only approach that would permit the elevated highway to remain open during construction.
As difficult as it was to get to this point, the process is far from over. Demolition of the southern mile of the viaduct and replacement with a temporary boulevard began in 2011. This was followed by the well-documented deep-bore tunneling, undertaken by a specially designed tunneling machine nick-named Big Bertha, which just finished her monumental task after an eventful four years. The interior of the tunnel is still to be completed, as is the removal of the Alaskan Way Viaduct, the completion of the surface boulevard and the many other physical improvements to the city's fabric. 
 
What Seattle is getting out of the deal 
When the project is completed, Seattle will have: 
A two-mile-long tunnel beneath Downtown Seattle
A mile-long stretch of new highway to connect to the south entrance of the tunnel
A new overpass at the south end of Downtown to help traffic bypass freight train blockages near the port
Demolition of the elevated viaduct downtown
A new waterfront surface street
More than 20 acres of new waterfront parks, trails and a public promenade
New connections from Pike Place Market and various sections of Downtown to the waterfront
How Oakland could benefit from tearing down Interstate 880
Though not as tall as the Alaskan Way, I-880 is even more of a barrier between downtown Oakland and its waterfront because the north- and southbound lanes are side-by-side rather than stacked. I-880 divides downtown from the Jack London district and from points south at 12 different streets. The underpasses are particularly dark, dirty and poorly maintained. Many parts have become large homeless encampments, and the on-and off-ramps and the access lanes to the Alameda tunnel are dangerous sites for pedestrians and cyclists. I-880 is also farther away from the waterfront than the Alaskan Way is, and the area that it cuts off from downtown has a great deal more potential for job and housing growth, as well as regional ferry and rail services. Burying I-880 would be transformative for Oakland.
To start, it would create 23 new city blocks that would be freed up for development. The City of Oak-land could sell that land to help finance the project. Demolishing the elevated freeway would also greatly increase the value of the surrounding properties, thus creating more new value that the city could capture to help finance this and other potential projects.
In addition to the huge financial benefit would be the equally massive physical impact on the City of Oakland. Neighborhoods that have been separated for decades would be reconnected, dramatically changing the experience in all of the places that currently border the elevated freeway.
As the Seattle experience, which is still unfolding, shows, city making is difficult. It takes a long time and requires many different actors. But it is clear that a major transformation of a great American city is taking place up north and that persistence, planning and long-term thinking are starting to have a huge impact. Downtown Oakland is already a great place within a great city. SPUR believes such big thinking, followed by big action, can make it even better — and can provide much greater benefits to the residents of the neighboring areas, the rest of the city and the region.