DIY Urbanism
Testing the grounds for social change
September 1, 2010
The current economic crisis has proven to be more than a challenge to our wallets: it has tested our faith in personal agency and our optimism in the future. But this malaise has met its match in the Bay Area, where a spirit of fierce independence has always thrived. Here the bad economy has a silver lining: it has reinvigorated and mobilized the community of do-it-yourself urbanists.
A mere snapshot of this burgeoning movement, this exhibit — on view at the Urban Center from September 7–October 29 — includes a selection of these projects, organized into four categories. DIY markets provide new, collaborative business models and environments; the better streets movement is working to invigorate and breathe new life into the city's public realm; new urban gardens bring the restorative power of nature back into the domain of the manmade; and a new commitment to public art sees it not just as aesthetic backdrop but as a way to interpret the urban/human interface.
Together these projects reveal the ways in which small or finite efforts can blossom into larger-scale, ongoing transformations. One replanted street median might become a swath of green across a neighborhood; one online instigator might catalyze a network of social revolutionaries; one eccentric performance-art gesture might ignite a rash of annual imitators and inspire new ways of activating public space.
They also signify a porous — and more productive — relationship between grassroots activists and local government. Citizens and City officials can work together, and toward common goals. This is the domain of possibility, collaboration and creativity that others are exploring to improve the city. We invite you to do it yourself.
DIY: Streets
Outdoor Living Rooms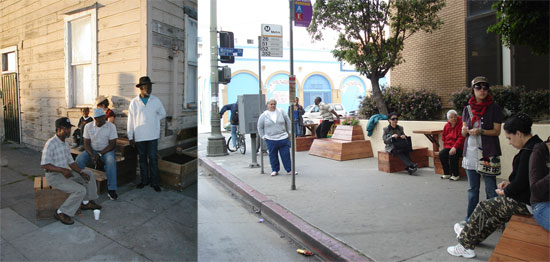 Outdoor Living Rooms are vignettes of furniture installed in public spaces —simple wood fixtures that give physical form to the social life of the street: waiting for a bus, meeting outside a shop, chatting or playing a game or just lounging. Steve Rasmussen Cancian works with residents in low-income neighborhoods, in West Oakland and parts of Los Angeles, where officially sanctioned and funded improvements are hard to come by. The West Oakland Greening Project created the first outdoor living rooms with found furniture: discarded sofas repurposed as sidewalk seating. Their later iterations have been custom made out of simple materials to recreate the park benches, front stoops, and outdoor tables where a neighborhood's inhabitants have traditionally interacted with one another and created a community. At first the outdoor living rooms in West Oakland were regularly hauled away by officials, but more recently the city has informally accepted the installations and offered permits if activists would purchase liability insurance. In Los Angeles, local activists won full permitting for living rooms without fees or requirements to buy insurance, eventually drawing Mayor Antonio Villaraigosa to come build a bench.
Outdoor Living Rooms share certain features with other projects in this exhibition, such as PARK(ing) Day and Pavement to Parks. But the project is more than an effort to modify street space for human use. The living rooms enable low-income renters to lay claim to their neighborhood landscape and make their diversity and culture visible to all visitors—critical benefits when outsiders often see these neighborhoods as derelict.
Furniture designed and built by West Oakland Greening Project: Ernest "Duke" Lawson, Harlan Smith, Jody Waters, Larry Davis, and Steve Rasmussen Cancian.
Clockwise from left: Early living room using "found" sofa; furniture configuration in Los Angeles; street corner living room in West Oakland; one current iteration of furniture mimics the traditional front stoops where residents gather; team member Duke Lawson completes an installation; project coordinator Jody Waters, right, installs a planter, the "spinner box," in West Oakland. Photos by Steve Rasmussen Cancian.
Sunday Streets