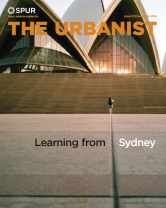 California has made significant progress in advancing water conservation and efficiency; Australia has done even better.
Australia's cities and towns survived their terrible drought, demonstrating world-leading innovation and exceptional examples of urban water planning and management driven by crisis. What can California learn from their actions?
Read More »
Planning and policy lessons from down under.
Sydney, Australia's planning system is entirely different from the Bay Area's, primarily because of the strong role of its state government in planning decisions. What can the Bay Area learn from its approach?
Read More »
A designer immerses himself in the life of the city.
Dan McKinley is the art director at McSweeney's, an independent publishing house founded by Dave Eggers that publishes all manner of fiction, nonfiction and poetry . We caught up with him near the cozy and book-stuffed McSweeney's HQ in the Mission to chat about small cities, literary cities and his interest in making his kids' hometown a better place.
Read More »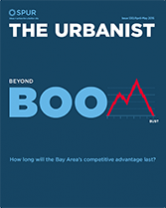 Our regional economy will evolve — but how? What potential problems should we be grappling with?
How long will the Bay Area's competitive advantage last? The Urbanist examines the boom-bust economic cycle and asks questions about the longer-term fate of our region. Where is the set of innovative clusters we call "tech" going to take us?
Read More »
San Francisco through the eyes of 21st-century flaneur.
I started making plein air paintings to get out of the studio and into the city. I wanted to visit locations that may not have iconic San Francisco views, but are still recognizable as San Francisco.
Read More »
Sketching the City
When he's not designing the urban environment, odds are he's drawing pictures of it.
Read More »