Issue 554
October 2016
to
November 2016
---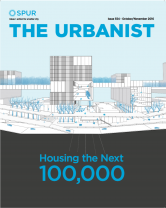 San Francisco needs more housing. The question remains: Where should it go?
In a new exhibition, The City + The City , students explore how San Francisco's Affordable Housing Bonus Program and other interventions might help alleviate the city's housing shortage.
Read More »
Rethinking the future of work.
From portable benefits to Universal Basic Income, Natalie Foster is working hard on solutions to improve the lives of all workers.
Read More »
Oakland doesn't have as many POPOS as San Francisco - yet. Here's a few you can visit, all within a few minutes walk of SPUR Oakland.
Read More »
On July 7, more than 2,000 people marched peacefully in Oakland to protest police killings of innocent civilians in other parts of the country. In a city that is changing quickly, and where tensions run high, a peaceful protest is worth noting. We must pay close attention to the reasons people were marching — and work as hard as we can to fix the causes.
Read More »