Issue 555
February 2017
to
March 2017
---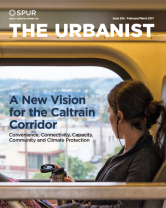 How to keep the Bay Area's innovation economy moving
The Caltrain Corridor, home of the Silicon Valley innovation economy, holds much of the Bay Area's promise and opportunity, but its transportation system is breaking down. We propose a transformative vision for the corridor, along with recommendations for how to fund and implement it.
Read More »
The second annual Market Street Prototyping Festival showcased engaging and experimental installations from artists, designers and placemakers, giving people a sense of what Market Street could look like in the future.
Read More »
Restarting Her City
Designing landscapes by day, re-envisioning urbanism by night.
Read More »
Issue 554
October 2016
to
November 2016
---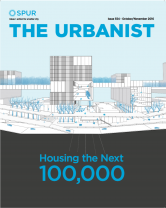 San Francisco needs more housing. The question remains: Where should it go?
In a new exhibition, The City + The City , students explore how San Francisco's Affordable Housing Bonus Program and other interventions might help alleviate the city's housing shortage.
Read More »
Rethinking the future of work.
From portable benefits to Universal Basic Income, Natalie Foster is working hard on solutions to improve the lives of all workers.
Read More »
Oakland doesn't have as many POPOS as San Francisco - yet. Here's a few you can visit, all within a few minutes walk of SPUR Oakland.
Read More »