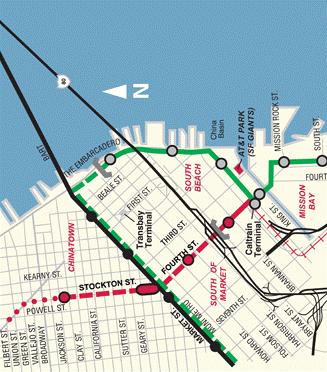 The Central Subway project is the second phase of Muni's T-line, the biggest transit project in San Francisco today. Once completed in 2018, the line will connect Visitacion Valley and Bayview with downtown, SOMA, and Chinatown. As with any project this large, the project has its fair share of detractors, and we thought it would be useful to remind everyone of some of the benefits.

1. It will add capacity to a corridor that sorely needs it
The Stockton corridor is one of Muni's busiest. According to data collected as part of Muni's Transit Effectiveness Project in 2006, the 30-Stockton and 45-Union/Stockton buses carry over 34,000 riders per day. These lines are often over capacity during peak hours, to the point where buses have to skip stops and leave riders waiting. The Central Subway will be able to take on some of that ridership, with 76,000 daily boardings expected in 2030 along the T. This will help to ease congestion on the Stockton corridor lines, hopefully translating into operating savings for Muni. The line will also connect Chinatown and Union Square with the Caltrain station on 4th and King, improving links between Muni and the regional transit system.

2. It is getting the Federal government to support riders in San Francisco
Thanks to the Federal Transit Administration's New Starts program, the Central Subway is getting a lot of federal money for its construction (about 60% of the total price tag). This is no small advantage of the project, given the condition of the Californian treasury, and it means that the subway is a great opportunity to get outside investment in the future of sustainable transport in our city.

3. Its cost-effectiveness will improve over time
The Central Subway project has been criticized by some transit advocates, largely because its benefits are seen as small compared to its costs. A full accounting of the project, however, needs to consider the upsides of having new subway infrastructure in San Francisco's core, namely that the tunnel can be used for a number of future Muni rail lines. SPUR has suggested the option of extending the line through North Beach to Fisherman's Wharf. The Central Subway tunnel will in fact extend past the Chinatown station at Clay and Stockton, ending just under Washington Square in North Beach. This means that the difficult and expensive work of tunneling will be complete, and the stage will be set for future extensions to fully utilize the new infrastructure.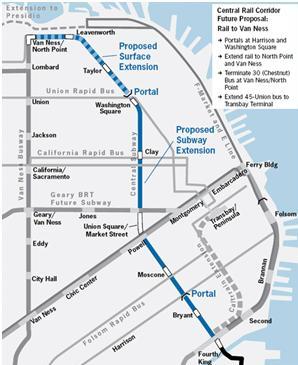 Extensions aren't the only changes that might make the project more worthwhile — there's also the changing office market in downtown SF. As we work to reduce VMT and emissions, combating job sprawl by bringing more jobs into San Francisco's core will be an important goal. This line will serve the 4th street corridor, a part of downtown with room for significant office growth. The line also already serves another growing district in Mission Bay. As these areas continue to add employment, an investment in linking them to Caltrain, BART, and the rest of the Muni Metro system will pay even more dividends.
Click here to read more about SPUR's take on the Central Subway project.