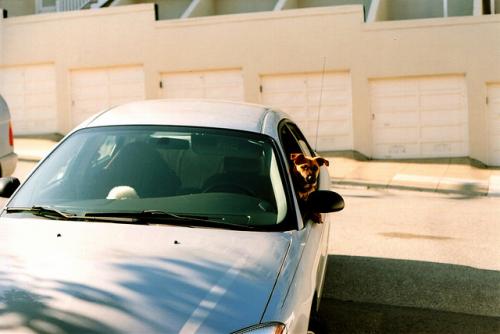 Your neighbor's car could soon be available for hourly rental. Any takers? [Photo Credit: Fabiana Meacham]
Would you rent out your car to offset the costs of owning it? Would you get rid of your car if you could rent one from your neighbor?
Until recently, those weren't legal options in California. But new legislation could dramatically increase the practice in the state. Starting in 2011, car owners will be able to maintain their personal insurance policies (albeit at a higher price) while renting their cars by the hour, helping them offset the costs and environmental impact of car ownership.
Successful non-profit ventures like the Bay Area's City CarShare, which SPUR helped incubate, have led the way in promoting car sharing, encouraging many to give up their personal vehicles. A UC Berkeley study found that 30% of San Francisco households that used City CarShare sold at least one of their private cars. By allowing individuals to share their private vehicles, the new legislation takes the concept pioneered by organizations like City CarShare one step further — and could have a large impact on the rate of car ownership in California.
City CarShare will also play a role in facilitating the new personal car sharing policy. Car owners will be able to register their cars for use among the organization's pre-screened member base, make use of its timed lock and key system, and specify availability hours through its website.
Similar initiatives have proven successful outside the United States as well. The UK's WhipCar, a car sharing service comprised of privately owned vehicles, has seen a sharp surge in popularity, with its fleet expanding to 600 cars from 30 in a matter of months. WhipCar has cleverly marketed itself to car owners who are strapped for cash and car-less citizens who appreciate the hassle-free concept of "renting the car next door." In light of the current economic situation, this message surely resonates with Californians looking to supplement their incomes, as well as those who can't afford to buy or keep their cars.
But beyond allowing Californians to earn an extra buck from their cars, the new legislation is indicative of the rise of "collaborative consumption," a concept that empowers individuals to share, trade and barter their goods and resources through online platforms. Websites that connect people seeking to swap goods, rent out rooms in their homes, and lend small amounts of money are all examples of the growing collaborative consumption movement. The state's legitimization of personal car sharing may just be one element in a much broader network of peer-to-peer consumerism taking root in our country.
City CarShare will soon incorporate personal car sharing into its services. [Photo Credit: flickr user felixkramer]