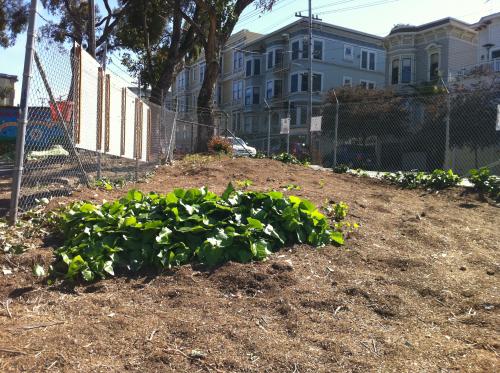 A patch of greenery at Hayes Valley Farm [Photo Credit: Fabiana Meacham]
Situated on a former off-ramp to Highway 101, Hayes Valley Farm is a powerful symbol of a bottom-up transformation of neglected urban infrastructure. Planned according to permaculture design principles, which mimic the biological relationships found in naturally occurring ecosystems, the farm will serve as an exemplary model of this design philosophy.

Although the farm currently has only a two to five year interim use permit for the site, volunteers and staff have wasted no time creating a new kind of urban landmark for the Hayes Valley community. In addition to providing an opportunity for locals to learn about growing food, the farm offers a variety of workshops and classes, including yoga in the mornings.

The community response has been "overwhelming" according to Garden Educator Intern Dave McConville, with up to 2,000 volunteers (mostly drop-ins) participating within the last six months. He senses that "people are looking to get involved with solutions" and recognize "a need for change."

On a recent Sunday afternoon at Hayes Valley Farm, the picturesque Freeway Food Forest — a literal freeway of edible plants — could be found on the site of the former off-ramp, yellow lines still in tact. A small group of volunteers conversed quietly while working in the shade, a young man read a book on a pile of cardboard, and a passerby admired the unexpected sight of a farm in the middle of the city.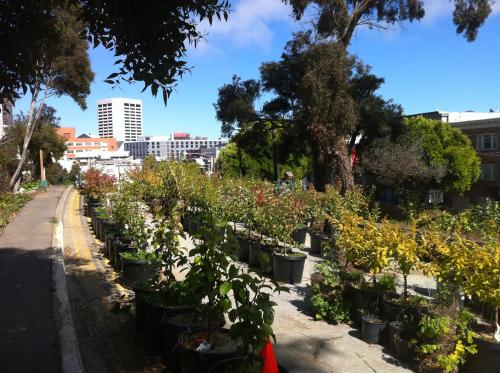 The Freeway Food Forest [Photo Credit: Fabiana Meacham]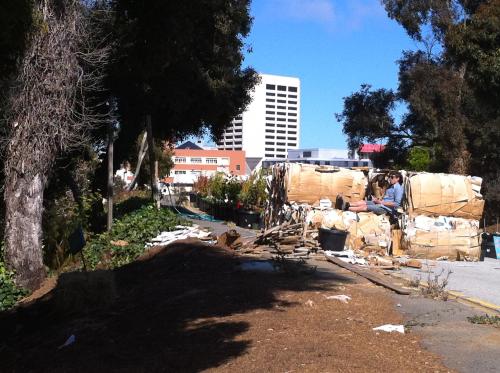 A moment of repose [Photo Credit: Fabiana Meacham]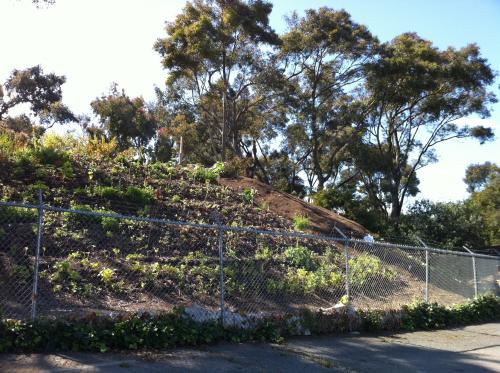 The farm thrives behind the chain-link fencing [Photo Credit: Fabiana Meacham]
Hayes Valley Farm is a featured project in DIY Urbanism: Testing the grounds for social change, opening Tuesday, September 7. Purchase tickets here.
The last installment of "Farming the City" profiled Alemany Farm.