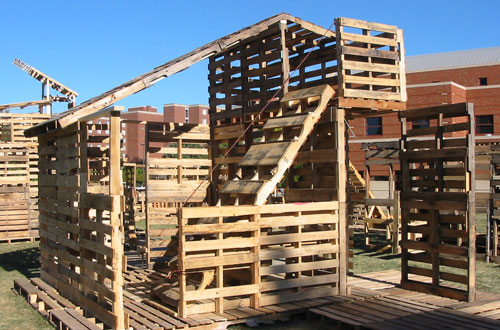 An example of "Palletecture" from I-Beam Design [Photo via I-Beam Design]
Architects and designers are getting creative about finding low-cost ways to build green structures that are just as compelling, if not more so, than their pricier counterparts. It is no wonder, then, that trends such as "Palletecture" and other forms of architecture that use recycled and reclaimed materials have become a worldwide phenomenon.

Palletecture is more or less what it sounds like—a new and surprisingly trendy form of architecture that utilizes old shipping pallets as a building material. The benefits of using pallets over traditional building mediums are many. For starters, pallets are easy to come by; they are durable, reusable, and come in a standard size. Units built with pallets are also inexpensive, running as low as $11 per square foot, making them perfect for use in low-income and transitional housing.
One example of Palletecture's potential for humanitarian use is a prototype designed by the American firm I-Beam, which employs pallets to create a temporary shelter for refugees that can be built in less than two weeks, and can be manipulated to accommodate the needs of the individual families who live in them.

Architects have also used Palletecture for less philanthropic purposes, building single-family homes for environmentally-conscious clients, and even for building structures as grandiose as an opera house.
Palletecture is not the only trendy form of architecture utilizing recycled material. As of late, shipping containers have been gaining popularity as a building material for many of the same reasons pallets have—low cost, efficiency and universality. With fewer demands on our manufacturing infrastructure, thousands of shipping containers sit untouched in shipyards, no longer needed for their original purpose of exporting goods. Recently, architects have thought to turn the unused shipping containers into dynamic livable spaces. Shipping containers are popular materials for housing, as they can be converted into unexpectedly homey dwellings for the fraction of the cost and resources of conventional building materials -- and with the added bonuses of mold, termite and fire resistance.

In 2008, a shipping container was converted into a low-tech "Tasting Pavillion" for the San Francisco Food Festival, and more recently several recycled shipping containers were used to build the stunning OceanScope Observatory in South Korea.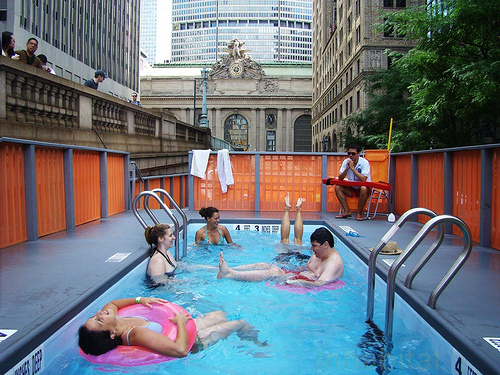 A dumpster pool in New York City [Photo Credit: flickr user Inhabitat]
One of the most popular and recent projects that utilized discarded material for urban revitalization was the dumpster pools installed in New York City this summer. The idea was simple in nature, but innovative in that the architects utilized a lowly dumpster, turning it into a structure that was well designed, and brought strangers together who wouldn't have otherwise interacted.

Architects and designers are drawn towards recycled building materials such as pallets and shipping containers, not only for their low cost and green credentials, but also because of the interesting design challenge these materials present. As one I-Beam architect writes on "Palletecture," "each pallet has its own difficulties, it has its own geometry, and its own embedded history"¦ for an architecture student spending most of his or her time working in front of a computer, it is an eye-opening opportunity to confront real material that has mass, weight and structure, history, resistance, and ideas."
The success of these recent architectural innovations can be attributed to more than just a trend. Their popularity might stem from the fact that they present one possible future for the direction of sustainable cities, and they give us, as an urban society, hope that we can thrive in a world affected by climate change. Why not use these materials that would otherwise sit unused in the landfill to create a something that furthers the architectural dialogue, or betters our built environment?