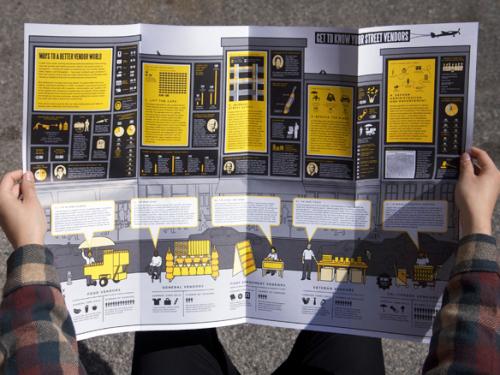 [The Vendor Power! poster breaks down NYC's rules and regulations for street vendors. Photo courtesy of Making Policy Public]
Much to the chagrin of many graphic designers, the most effective and skilled examples of their trade often exist within the field of advertising, where the profits reaped from consumption dominate the end product. But when the rare opportunity does arise to use graphic design for the public good, the results can be inspiring and just as effective.

By bringing together advocates and designers to create informational fold-out posters, the Center for Urban Pedagogy's (CUP) "Making Policy Public" project illustrates and elucidates complex policy issues for the average person. CUP has released a total of six posters on issues ranging from immigration rights to the juvenile justice system. Rather than taking a hard stance on most issues, the posters serve to educate the public about the policies that currently exist, emphasizing their impact on communities and personal lives.

Although hard copies of the posters are for sale through the website, PDF versions are available for free online. While CUP is a New York-based organization that deals largely with local issues, the posters are nevertheless an inspiring example of how we might use graphic design to teach ourselves and our communities about the often nebulous world of public policy.