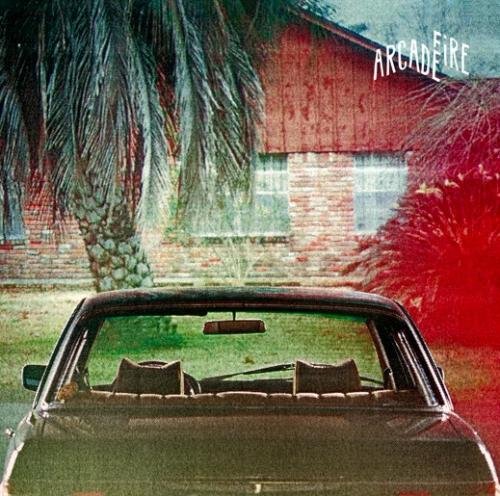 Sprawl, conformity, car culture, ennui, decay. These are a few of the themes Arcade Fire tackles in its third album, The Suburbs, released last week. At times nostalgic and at times cautionary, The Suburbs may be most notable (certainly in the realm of SPUR's blog) as an example of city planning commentary in pop culture.

As an NPR review put it, "the members of Arcade Fire have always been fascinated by the subtle ways geography informs our lives." Their newest album weaves a sense of suburban space and place throughout its 16 tracks. Band front man Win Butler sings of how "First they built the road, then they built the town. / That's why we're still driving round and round." Much of the inspiration for the album comes from Butler's youth spent in the suburbs of Houston in the 1980s. And as with Arcade Fire's other notable excursions into the memories of childhood on its first album Funeral, the tone is often wistful. Butler and wife Régine Chassagne sing longingly for the "wasted hours" of adolescence spent staring out the window of a car, riding bikes in the night to the nearest park, and waiting in parking lots under freeway overpasses. There are also more melancholic references to the impact of growing up in the built environment of suburbia — "all we see are kids in buses longing to be free."

But The Suburbs is not so much an extended story about suburbia in the "˜80s as it is about returning to those cookie-cutter communities today. Images of suburban decay ring throughout the album, as "all of the walls that they built in the "˜70s finally fall." The few redeeming qualities of growing up in the suburbs seem to be gone. As Butler sings in the song "City With No Children," all that remains is "a garden left for ruin by a millionaire inside of a private prison." Perhaps the most anthemic song on an album that on the whole is less filled with those big communal choruses for which Arcade Fire is known, comes near the very end with "Sprawl II (Mountains beyond mountains)." Sounding like ABBA or Blondie's "Heart of Glass," Régine Chassagne chants the chorus: "Living in the sprawl / Dead shopping malls rise like mountains beyond mountains / And there's no end in sight / I need the darkness, someone please cut the lights."

Certainly, Arcade Fire is not the first band to sing a cautionary tale about suburban life. Rush condemned the stifling conformity of suburbia in the "˜80s with "Subdivisions," Modest Mouse has oft breached the subject on albums like The Lonesome Crowded West and Building Nothing Out of Something, and the Dirty Projectors' "Temecula Sunrise" is supposedly about a hypothetical future in which millionaires in mass move out of their suburban McMansions that then become colonized by bohemian artists. And these are just a few examples. It almost seems a rite of passage in rock music to vilify mainstream suburban culture. Arcade Fire's melancholic nostalgia probably goes easier on suburbia than most.

Nor is Arcade Fire the first notable band to breach urban planning issues and sing critically about our built environments. David Byrne, former front man of the Talking Heads, is a known bike enthusiast and advocate for more livable cities, having recently designed bike rack sculptures around New York City and written Bicycle Diaries about his observations biking in cities throughout the world. (You can also catch David Byrne's "Arboretum" series of drawings on exhibit at Electric Works through August 21st.) Perhaps my favorite Talking Heads song about urban space is "Nothing But Flowers" — a satirical inversion of Joni Mitchell's famous "Big Yellow Taxis." Rather than paving paradise to put up a parking lot, David Byrne sings in horror as our built environment — parking lots, factories, Pizza Huts, discount stores, and highways — gives way to "nothing but flowers."

Pop culture has a way of providing insight into our changing desires about the spaces in which we live. In The Option of Urbanism, Christopher Leinberger uses the example of television shows to portray society's shifting opinion on urbanism versus suburbanism. He suggests that while TV sitcoms in the baby boomer era (The Brady Bunch, The Dick Van Dyke Show) are set in idyllic suburbia, shows beginning in the 1990's take place in cities (Friends, Seinfeld, Sex and the City).

A recent Slate article from Tom Vanderbilt would suggest that Hollywood itself drives popular opinion associated with car (and car-less) culture. In the article, Vanderbilt gives example after example of movies in which characters without cars are portrayed as "losers." An exception (and a possible sign of progress) is last year's 500 Days of Summer — a movie that romanticizes car-less life spent strolling the streets of downtown LA and admiring the prewar architecture. In a memorable scene on a bench in Angel's Knoll Park, Joseph Gordon-Levitt's character Tom "Manhattanizes" the view in front of him, using the arm of Zooey Deschanel's character Summer to draw an image of handsome old buildings in the place of existing parking lots. Though the film conveniently ignores downtown's post-1950's iconic architecture, it remains an example of shifting ideals in pop culture. Even beer commercials are starting to highlight other modes of transportation, as Matthew Roth from Streetsblog noted last week in an article about a new Miller High Life commercial in which a blue-collar worker rides his bike through a snowstorm with a six-pack in the front basket.

Arcade Fire's The Suburbs isn't as much about suburbanism versus urbanism, or cars versus bicycles, as it is a question of "What now?" The album's vision of suburbia may not exactly be an ideal place to live — not in the 1980's and certainly not upon returning to it today. But the narrator of the album does return, nostalgic for his wasted hours of youth and fearful of what may remain for his children. If suburbia is no longer necessarily the dream, what is to be made of those communities we built in the 70s?

Arcade Fire's The Suburbs can be listened to in its entirety on the NPR website. But true to its theme, it probably sounds best through car speakers while driving on an empty highway.