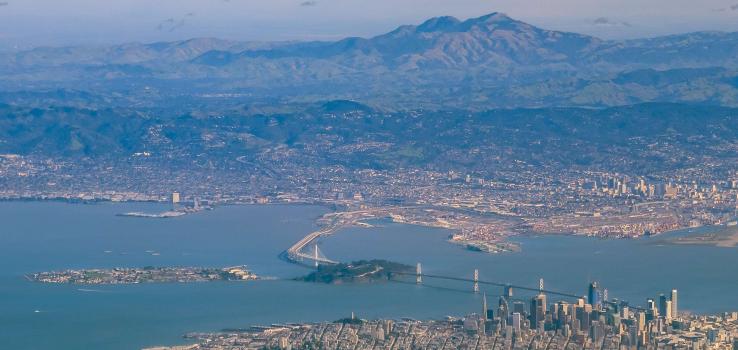 The SPUR Regional Strategy
Planning for the Bay Area of 2070
We will release the complete SPUR Regional Strategy on May 13, 2021.
See below for our research so far.


The San Francisco Bay Area is one of the world's most innovative and progressive regions, but we face enormous challenges, from the cost of housing to the threat of sea level rise. SPUR has launched a multi-year initiative to envision a more equitable, sustainable and prosperous Bay Area for all — and propose bold strategies to get there.
Core Funders of the SPUR Regional Strategy
Chan Zuckerberg Initiative
Clarence E. Heller Charitable Foundation
Curtis Infrastructure Initiative
Dignity Health
Facebook
Genentech
George Miller
Hellman Foundation
John S. and James L. Knight Foundation
Marin Community Foundation
Sage Foundation
Silicon Valley Community Foundation
Stanford University
Additional funding provided by AECOM, Fund for the Environment and Urban Life, Microsoft, Seed Fund, Stripe, Uber Technologies and Wells Fargo.
Featured Publications
Over the next 50 years, the San Francisco Bay Area is expected to gain 4 million people and 2 million jobs. In a region where a crushing housing shortage already threatens quality of life, how can we welcome new residents and jobs without paving over green spaces or pushing out long-time community members? SPUR partnered with AECOM to envision an equitable and sustainable future region.
As the climate continues to change, communities will need to adapt the San Francisco Bay shoreline to rising sea levels. But the Bay's varied landscapes and overlapping jurisdictions make a coordinated response challenging. The San Francisco Bay Shoreline Adaptation Atlas proposes a new regional planning framework by dividing the 400-mile Bay shoreline into 30 distinct geographic areas that share common physical characteristics and adaptation strategies.
This report, the first product of the SPUR Regional Strategy, uses a scenario planning process to look at four uncertainties that the Bay Area will contend with over the next 50 years: the economy, housing, transportation and the physical form that growth takes. The resulting scenarios serve as "myths of the future," stories that reveal the potential long-term outcomes of choices the region makes today.