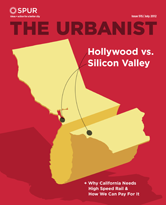 Why California needs high speed rail & how we can pay for it
For California, high speed rail isn't just a worthwhile investment, it's a necessary one. Here's how we can pay for it.
Another perk of high-speed rail? Seamlessly connecting two of California's most important economic clusters.
On San Francisco's central and southern waterfront, evidence of an era gone by.