Member Profile: Tyler Frisbee
Working to make the city better, one bike at a time.
August 23, 2014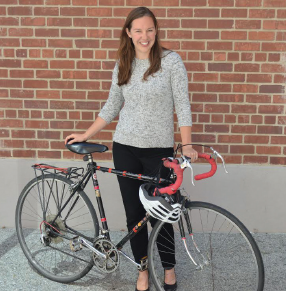 Earlier this year, Tyler Frisbee became the Policy Director for the San Francisco Bicycle Coalition.  Though long a fan of both cycling and cities, it took awhile for those interests to converge. "I had started biking as a recreational rider, actually, and I started thinking about cities because I worked at 1,000 Friends of Oregon on ways to protect farmland and open space. You can't do that without building cities correctly. So when I moved to Washington, D.C., got sick of taking the metro, and was working for Oregon Congressman Earl Blumenauer — who's often called the grandfather of livability — all the pieces just clicked." At that point, Frisbee explains, "I started using my bike as my transportation mode, and talking about nerdy things like "super blocks" and multimodalism." Among her big agenda items at the bike coalition? Promoting the equity angle about bicycling and getting more families on two wheels.
You've just started as Policy Director at the Bike Coalition. What are you most excited to be working on there?
Working in D.C. on federal bike policy issues, there are four or five local groups you hear about who are doing really excellent, top-notch work. San Francisco is one of them. We've made so much progress, not only in making our streets safer for people on bikes, but in making them safer and more inviting for everyone.  A street that is calm, where there is public space for gathering and socializing, where parents feel like their children aren't in danger, where seniors have easy access and local businesses are thriving, those are the streets we all love. Those are the streets we're trying to build here.
Any advice for a newbie looking to become an urban cyclist?
Get a buddy! I was a pretty experienced cyclist, but when I started biking to work in D.C., I made my best friend bike with me on the weekends to test-ride my commute route. I was so nervous! If you have a friend who's a cyclist, ask them to help you out; cyclists love helping get people on bikes! And if you want to start riding and don't have a friend to help, come ask the San Francisco Bicycle Coalition.
What's your favorite ride in San Francisco? And how are you liking the hills?
S.F. hills are great! It is definitely a change from flat D.C. and Portland (Portland doesn't get hilly until the outskirts of the city), but it lets me feel like I get a little workout in every day. I really love biking down Valencia Street — there's so much energy and so many people out and about. And I know that San Franciscans love to hate it, but riding down Market Street with twenty other people on bikes around you is such a unique experience. Sure, it's crowded and chaotic, but it's so thrilling to be surrounded by so many other people on bikes.
You're a new arrival: What's something you're glad to have discovered here?
San Francisco is a beautiful city with an incredible history. I feel like every time I'm out I discover a story about a civil rights issue or a social justice fight that happened on a certain block. It's inspiring, and it adds so much to the city's urban landscape.
Favorite urban view?
My favorite run is from my apartment up to Twin Peaks, and I love the view looking west from the top. Living near the ocean is awesome.
Favorite book about cities?
It's a cliché, but Jane Jacobs' The Death and Life of American Cities is a classic. I love giving it to people who haven't thought about urbanism, and watching their eyes just pop open. We forget that while it seems basic to those of us who think about this all the time, it's still relevant and important today.