Sharing the Wealth
San Jose's plan to capture more jobs
August 1, 2010
San Jose's economy and approach to economic development have evolved in the context of Silicon Valley. As the world's leading innovation district, Silicon Valley has constantly reinvented itself in order to maintain its competitive advantage in an increasingly globalized world. Mirroring these ebbs and flows, San Jose has improved and adapted its goals and approaches to economic development over the decades. But despite the economic success of Silicon Valley, San Jose still struggles to capture all its benefits. The city describes itself as "jobs poor" and, despite its size, is home to few of the leading Silicon Valley firms (though having Cisco, eBay and Adobe call San Jose home isn't bad). Today, it has a well-organized and strategic economic development program built around a continuously updated economic development plan.
This article traces the history of San Jose's approach to economic development and identifies four lessons based on that approach:
Lesson 1: Secure high-level commitment and broad-based support.
Lesson 2: Use analysis of economic forces to identify strategic priorities and shift city resources toward these priorities.
Lesson 3: Establish an organizational structure and framework to support implementation, where results are measured and reported.
Lesson 4: Maintain continuity in implementation across political leaders and mayors.
The article concludes by applying some of these lessons to San Francisco and arguing that as the two biggest cities in the Bay Area region, San Jose and San Francisco can and must learn to work together on shared economic challenges.
Bedroom communities: The economic strategy of yesteryear
In the 1950s and 1960s, city leaders focused their efforts on growing the resident population by becoming a bedroom community for the growing workforce of Silicon Valley. A key strategy during this period was to annex outlying areas, providing ample space for suburban-style residential development over the next several decades. This strategy emphasized residential growth rather than employment generation.
In the 1970s and '80s, the strategy shifted to capturing jobs for the city's growing population. City leaders realized that being the bedroom community for Silicon Valley was not an economically sustainable path, in part because in California commercial uses generate more tax revenues than residential uses. To accomplish this goal of growing the jobs base, the San Jose Redevelopment Authority developed industrial districts to attract growth from the electronics industry. During this time, the Redevelopment Agency developed industrial parks in North San Jose, and Edenvale (which houses Hitachi and Northrop Grumman, as well as nearly 300 other companies) to the south. Also during this time, like many other cities, San Jose struggled to capture both major employment and retail uses downtown, as companies of both types sought larger footprint opportunities in the abundant greenfield areas around the city.
In the 1990s, the economic development approach focused first on responding to the recession and then to keeping up with the booming Silicon Valley region. In more recent decades, to grow the city's job base, the strategy revolved around capturing and growing major Silicon Valley headquarter firms such as eBay, Cisco and Adobe. The city also focused on capturing new businesses through establishing the largest locally managed business incubator program in the country.
After 2000, in the wake of the dot-com crash, the city drafted and adopted its first-ever economic strategy in 2003. Overall, the focus continued to be about capturing more jobs but also included concern about increasing the quality of the business districts themselves. The city strengthened downtown as Silicon Valley's city center, reshaped North San Jose as a transit-oriented and urban employment district, and preserved employment lands for economic uses. There was also a new push toward growing companies in clean technologies.
San Jose's economic challenges today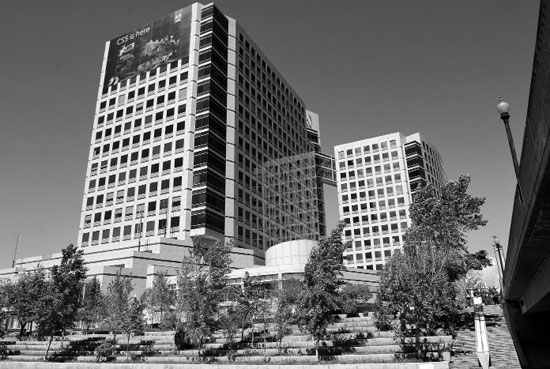 Today, there remains a concern about San Jose increasing its share of the South Bay's employment. Among all the large cities in the U.S., San Jose is in company only with Detroit, where half the city's residents leave for jobs outside the city each day. The next closest city is Dallas, where 35 percent of people commute out.1 And because of the small numbers of overall jobs in the city, San Jose is the only city among the nation's 20 largest where the daytime population is smaller than its nighttime one.
In response to the economic crisis that began in 2008, San Jose embarked on the first major update and rewrite of its 2003 economic strategy. The new plan was approved by the City Council in December of 2009, and a 2010-2015 plan is now being implemented.
The current economic strategy makes several important observations about the San Jose economy. First, by the end of 2009, all the 56,100 jobs created since 2004 were lost, and San Jose's unemployment rate is now among the nation's highest. Second, half of city residents still commute out for jobs elsewhere in Santa Clara County. Third, only 25 percent of San Jose's jobs are in "driving industries," compared with 35 percent for other communities in Silicon Valley. Driving industries, including software, semiconductors and computer equipment manufacturing, are important because they sell goods and services beyond the city's boundaries and bring in net new wealth to a community. Fourth, San Jose is now a city of small businesses. Half of all jobs are in firms with between 30 and 100 employees, and only one industry averages more than 100 employees per firm. Even though major companies such as Adobe Systems are headquartered in San Jose, the average software company in San Jose has only 18 employees. Fifth, mirroring a broader trend in Silicon Valley, employment is shifting away from hardware sectors such as semiconductors, electronic components and computer manufacturing and towards software. In 1993, software was the first largest industry in San Jose. Today it is the second largest.2
Based on these observations, the current San Jose economic development strategy identifies the following 12 strategic goals:
Encourage companies and sectors that can drive the San Jose/Silicon Valley economy and generate revenue for city services and infrastructure.
Develop retail to full potential, maximizing revenue impact and neighborhood vitality.
Preserve and strengthen manufacturing-related activity and jobs.
Nurture the success of local small businesses.
Increase San Jose's influence in regional, state and national forums in order to advance city goals and secure resources.
Improve the speed, consistency and predictability of the development review process, and reduce costs of operating a business in San Jose.
Prepare residents to participate in the economy through training, education and career support.
Advance the Diridon Station area as a key transportation center for Northern California.
Keep developing a competitive, world-class airport, and attract new air service.
Continue to position downtown as Silicon Valley's city center.
Create more walkable, vibrant, mixed-use environments to spur interaction and attract talent.
Develop a distinctive set of sports, arts and entertainment offerings aligned with San Jose's diverse, growing population.
These strategic goals reflect the desire for San Jose to secure its place as the "capital" of Silicon Valley. Whether any place in Silicon Valley can actually become its capital is clearly debatable. But it demonstrates San Jose's twin desires to be both an economic powerhouse and a social and cultural center.
Key lessons
While the economic strategy highlights San Jose's vision, equally important is how they implement it. San Jose's approach to economic development reveals four key lessons.
Lesson #1: Secure high-level commitment and broad-based support.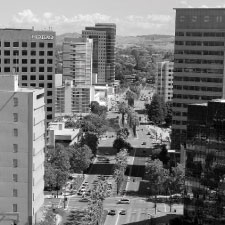 In San Jose, not only does the mayor take ownership of the economic strategy, but so too do the City Council and most department heads. Economic development is clearly understood as a citywide goal with broad-based benefits.
There is no debate over whether economic development should occur. It is simply understood that more economic development means more and better jobs, and a rising standard of living, both of which contribute to retaining or increasing the level of city services.
While the strategy process involves significant input from across all city departments, there is also an emphasis that economic development is a shared agenda. The strategy document argues that "economic development is a citywide business," that "each city staff member is an ambassador for the entire city" and that "employers are customers." In practical terms, the buy-in across the city government results in all important city reports and documents being consistent with the economic development strategy. In San Jose, city departments in fact have to demonstrate in their presentations to the City Council how their various reports are consistent with the goals of the economic development strategy. This not only reminds the City Council of the importance of economic development to all city departments, but also reinforces the City Council's role in overseeing its implementation.
Lesson #2: Use analysis of economic forces to identify strategic priorities and shift city resources toward these priorities.
San Jose's approach to economic development also is based on a careful understanding of the major economic and demographic trends reshaping the city's economy:
More moderate job growth and new economic engines
Steady pressure on manufacturing and other middle-income jobs
Transition to a low-carbon economy
Locally educated children of immigrants will drive workforce growth
While identifying these trends is important from an analytic standpoint, San Jose has been particularly successful in aligning resources in response to strategic goals. The following are a few examples based on several key goals of the 2003 economic strategy:
Evolve and position Downtown as a unique creative and cultural center of Silicon Valley
Most importantly, in 2005 the city moved its City Hall from a more car-oriented area near the airport into a new 18-story Richard Meier-designed building at the east end of downtown. The city made a major push to support the downtown expansion of Adobe. They also developed a partnership with 1stACT, an organization focused on promoting arts, place and a cultural identity for Silicon Valley. Finally, they approved a master Environmental Impact Report for downtown to allow for streamlined development of 10 million square feet of office, 1.2 million square feet of retail, 10,000 housing units and 2,500 hotel rooms. From 2004-2009, there were 2,421 housing units completed downtown, 860 in the city's first high rise residential developments.
Revise Key Land Use and Transportation Policies to Reflect the New Realities of the San Jose Economy
This strategic goal led to a rethinking of the auto-oriented industrial park planning for North San Jose with a new specific plan, adopted in 2005, to accommodate 83,000 jobs and 32,000 housing units. The city also put special emphasis on securing approval of the Pacheco Pass corridor for California High Speed Rail and for local sales tax financing to help fund BART's extension to San Jose.
Diversify San Jose's economic base and preserve/create middle-income jobs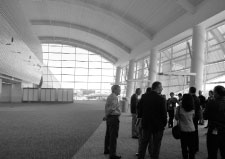 The city established a "Framework for Conversion of Industrial Lands" to preserve production-related jobs, opened a biosciences business incubator, and pursued cleantech firms and achieved 4,000 core cleantech jobs.
Build a world-class airport facility and air services
The city responded to this by embarking on a major redesign and public art program at the airport as well as the financing and building of an entire new $1.3 billion concourse, which opened in 2010.
Develop strategic partnerships with San Jose State
Some examples include continuing to support the joint city/university downtown library (which opened in 2003) and establishing an SJSU-City Executive Team that meets regularly to collaborate. Also important was launching the ZER01 initiative that resulted in several international-caliber art festivals.
Lesson #3: Establish an organizational structure and framework to support implementation where results are measured and reported.
San Jose has also been particularly good at setting up institutional mechanisms to implement economic development. When the City Council adopted the current strategy, it adopted an implementation plan that listed the top 10 actions for 2010. The mayor and the City Council were personally involved in selecting the key strategy components to elevate as top actions. The actions include the team who is responsible, which often involves several city departments.
San Jose has also made a commitment to be transparent about the goals and implementation. Every year to 18 months the City Council holds a study session to discuss the progress toward each of the identified goals. Not only does the City Council become actively involved in reviewing and responding to aspects of the strategy, but members also want to see it implemented and hold the staff accountable when core aspects of the strategy are not implemented.
Key areas of economic policy where the city established new and appropriate implementation systems include the core components of economic development: business formation, retention and attraction.
In business formation, San Jose established the country's largest locally funded system of business incubators. These include the Environmental Business Cluster and the San Jose BioCenter. The City of San Jose and the San Jose State University Research Foundation founded the Environmental Business Cluster in 1994. Since then, it has assisted more than 150 companies and is now the largest environmental and cleantech incubator in the country. The San Jose BioCenter provides wet laboratory and office space for companies in life science, nanotech and cleantech. Companies affiliated with the BioCenter have raised more than $1 billion in capital and created more than 800 direct jobs.
Under business retention, the city established a joint team between the Office of Economic Development and the Redevelopment Agency. This group of 10 people meets monthly as a team. They have a target of meeting with 300 companies per year and track progress toward that goal.
Under business attraction, the city spends little time on targeted outreach. Instead, the attraction component includes a specific focus on international attraction. While the City of San Jose has a relationship with foreign direct investment firms, its primary business attraction arm for international firms is the U.S. Market Access Center. The U.S. Market Access Center focuses on assisting small to mid-sized technology and life sciences companies from other countries looking to expand within the United States. In addition to marketing and business consulting services, the center also provides office space for those firms as an initial foothold into the domestic market.
The City of San Jose, through its Redevelopment Agency, does have the ability to provide significant financial incentives. For example, it has a revenue sharing program in which over the course of five years the city will refund 50 percent of the taxes collected by a new firm. It also has a parking incentive program for companies that sign new leases or extend additional leases. This program pays for 50 percent of the company's parking out of redevelopment funds.
Lesson #4: Maintain continuity in implementation across political leaders.
San Jose maintains a continuous approach to economic development across political administrations. Although former Mayor Ron Gonzales championed the original 2003 strategy, Mayor Chuck Reed continued his focus on economic development after being elected in 2006. This continuity is essential to track progress across time. It also reinforces the shared sets of values about economic development and how growing the economy is a strategic priority even if individual politicians change.
The parallel structure of City Council committees and department working groups also reinforces continuity. For example, the City Council is organized into five standing committees. The nonpartisan city manager also organizes the city departments into five "city service areas" that parallel the City Council committees. In particular, there is a community and economic development service area managed by the head of economic development and a City Council committee with the same name and staff leadership.3 The focus areas within this service area include the main city functions directly connected with economic development: housing, redevelopment, transportation, planning and public works. These agencies not only coordinate their actions through the city service area, but also produce a single budget. Another advantage of the CSA process is that the City Council receives progress reports from each committee that are aligned with their committee's responsibilities.
Conclusion: What can we learn?
Similar to San Jose, San Francisco also responded to the dot com crash with the drafting of the city's first economic development plan. In 2004, voters approved a ballot measure calling for an economic development plan to be updated every three years and the creation of a new office to analyze the economic impact of pending legislation. In 2007, the city finalized the first draft of this economic development plan.
Although both cities now have long-term economic development strategies, there are some ideas San Francisco can learn from San Jose. Topping that list of lessons to apply from San Jose would be to have a broadly supported and adopted economic development plan that guides San Francisco as it navigates the most difficult economic climate in decades. Second perhaps would be for San Francisco to better communicate and share its successes in economic development. While San Francisco has not historically devoted as many public resources to citywide economic development as San Jose, it has been quite successful at leveraging private investment.
But San Francisco also needs to reach well beyond the government and engage outside businesses, institutions, organizations and other parties whose support is necessary to implement economic development. SPUR has elsewhere argued that the update of San Francisco's economic development plan should be a time to build consensus around both strategic priorities but also how to fund and implement economic development. Perhaps such a public/private entity that would allow San Francisco more of the economic development continuity across mayors that San Jose has experienced.
Over time, assets change and places have to adapt. There is no equitable redistribution of good jobs at any level, or to any city or community. The places with good jobs have assets useful to the industries of the day and can adjust to competitive changes over time.
Sixty years ago, Silicon Valley was mostly highly productive farmland. Today it is the leading technology district in the world. For decades, most of the economic growth of Silicon Valley was centered in Santa Clara County. Today, some of the leading technology firms (such as Twitter) are located in San Francisco, not the South Bay.
A lot can change over the coming decades. The next waves of innovation might favor engineering talent solving complex energy and climate change challenges and reinforce traditional Silicon Valley advantages. San Jose might boom and become a dense and dynamic urban center built around transit. Or employment levels in Silicon Valley might never return to what they once were as the next waves of innovation could occur elsewhere.
San Jose cannot rest on its laurels as the "capital" of Silicon Valley and a high-tech manufacturing center with significant available land for fast-growing companies. And San Francisco cannot rest on its laurels as a beautiful city that talented people and start-ups seemingly flock to. Both cities understand this reality and have drafted economic plans to help navigate their future direction.
Ultimately, the economic futures of both San Francisco and San Jose are intertwined. Economies are regional and do not stop at city boundaries. The competitiveness of the Bay Area region is improved by having two dense, dynamic and creative big cities: a smaller, older one in the north and a younger, larger (and warmer) one in the south.
Endnotes
This is in contrast to cities such as New York, where only 9 percent commute outside the city for work—or even San Diego, where in spite of a large job base elsewhere in the county, only 20 percent commute out each day. Source: 2006-2008 American Community Survey, B08008: Sex of Workers by Place of Work-Place Level.
Source: San Jose Economic Strategy, 2010
Other city service areas include Environmental & Utility Services, Public Safety, Neighborhood Services, and Transportation & Aviation Services.