After lying dormant for a decade, San Francisco International Airport's Terminal 2
will be re-opening this month. Last week, 45 SPUR members had the unique opportunity to tour the final stages of construction on the $383 million renovation project. The 640,000 square foot building has 14 gates and will serve 5.5 million visitors per year. American Airlines, a tenant of the original

terminal when it opened in 1954

, will be joined by Virgin Airlines in this revamped space. Here are a few highlights that stood out during the tour:
Technology
- Free wi-fi will be available throughout the terminal.
- Flat-panel screens display arrival/departure information, a "visual paging" system, and informative notes, such as nearby pet-waste facilities and medic stations.

Design
-According to project manager Ray Quesada, the space has been designed to create a "club" like atmosphere. Travelers familiar with Virgin America's cabins will immediately recognize the design concept. Note the Arne Jacobsen Egg Chairs.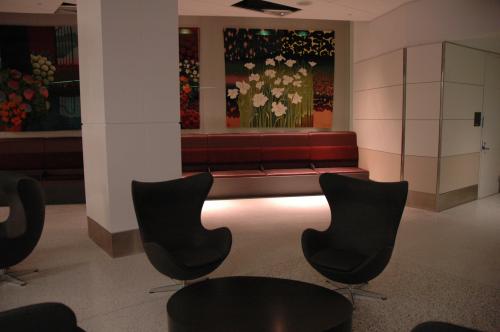 - The check-in area was designed to feel like a boutique hotel, with stylish faux-wood paneling and a variety of contemporary furniture.
- Plenty of light, large windows and high ceilings. The ceilings were built as tall as possible without interfering with the sight lines of the control tower. 
Green Features
- The HVAC system is built into the walls, as opposed to the ceiling, to reduce the distance the ventilated air must travel. 
- Significant re-use of materials from the previous structure. 
- T2's sustainability efforts are slated for a LEED Gold rating. 
Art
- Air Over Under by Seattle-based architect Norie Sato: two large pieces on the exterior of the building near the curbside drop-off area.Their surfaces appear pixelated when standing nearby, but bird wing and plane wing images appear from a distance.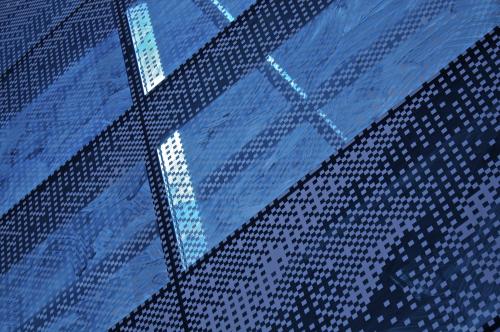 - Butterfly Wall by San Francisco artist Charles Sowers: A interactive kinetic sculpture operated by hand cranks and electronic motors.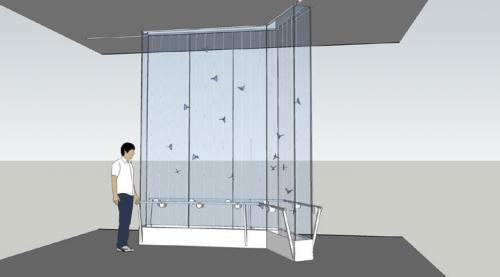 - Every Beating Second by Janet Echelman: a sculpture of twine and braided fibers. While it was not yet installed at the time of our tour, a mechanized air flow system has been designed to add movement to the piece.
- Topograph by Kendall Buster: an elevated sculpture near the check-in counters made of steel tubing and cloth and inspired by topographical maps.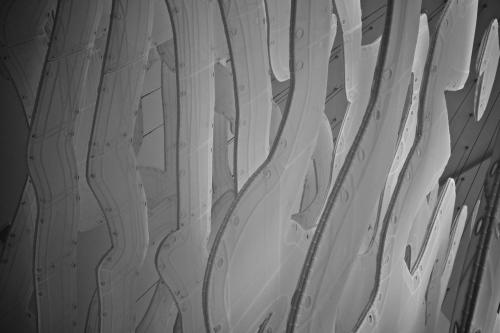 To get your own look at the new terminal, make your way to SFO between 12 and 5 p.m. tomorrow, April 9, for T2's grand opening celebration.