Across the Bay Area, only one in 10 commuters takes transit to work each day. And half of those transit commuters go to one job center: downtown San Francisco. But since most work is outside of downtowns, SPUR is trying to understand a little more about emerging suburban and non-downtown job centers. This post is the first in an occasional series that will look at the Bay Area's evolving and emerging business districts. For each employment district, we will ask four main questions:

The Location: Where is this place located? How far or near to major transit? And how large from one end to the other?
The Plan: What was the planning vision for this place? Was it master-planned? Did it grow up organically?
The Market: What kinds of jobs and companies are located there?
The Commute: How are workers getting to their jobs each day and why?
In this first edition, we will take a closer look at San Francisco's Mission Bay, an emerging neighborhood and job center surrounding a new UCSF campus.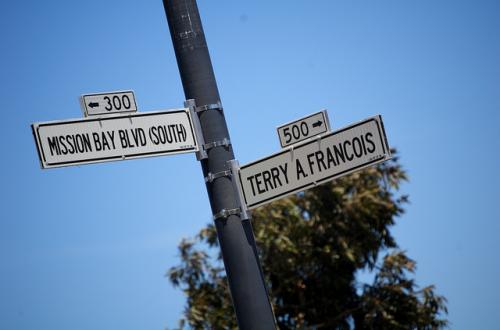 [Photo Credit: Colleen McHugh]
The Location: Mission Bay takes up about 303 acres of land along San Francisco's eastern waterfront just south of AT&T Park. Most of the jobs are about half a mile or more from the 4th and King Caltrain station and over a mile and a half from the Powell Street BART station in downtown. The neighborhood is being built on former Southern Pacific rail yards, and is bounded by the I-280 freeway on the west, King Street on the north, Mariposa Street on the south, and the San Francisco Bay on the east.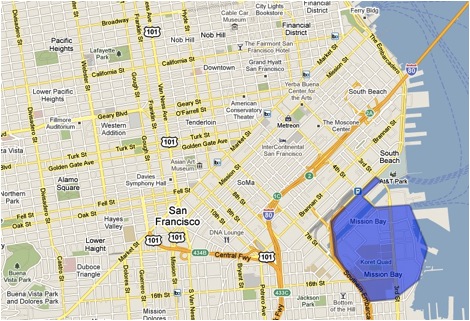 [This post will focus largely on the neighborhood's job center, which is located in the southern part of Mission Bay]
This area is served by Muni's T light-rail line, which connects it to Bayview in one direction, and the Market Street Corridor (and BART) in the other. There is also access to Caltrain, with the 4th and King terminus about a half-mile away from the center of the development.

The Plan: Mission Bay is a master-planned development. The site's design, zoning, and layout are detailed in plans approved by the City's Redevelopment Agency, and the private developer, Catellus Development.* Over the 303 acres, the plan lays out the maximum development figures:
- 6,000 residential units
- 4.4 million square feet of office space
- 2.6 million square foot UCSF campus
- 500,000 square feet of retail, and a 500-room hotel
- 41 acres of public open space, both along Mission Creek and along a boulevard in the development's center

In all, current plans for office space in the area should accommodate about 14,000 jobs, in addition to 9,100 expected at the UCSF campus. This means that the entire development will house about 76 jobs per acre.

The Market: The ability to design and implement a master plan also allows the Redevelopment Agency to influence the types of jobs brought to Mission Bay. Many planned job centers target a variety of industries, but Mission Bay's focus is very clear: biotech. In fact, 92% of the office space in the area is planned to be used by biotechnology companies, though there are other large tenants, such as Gap Inc., (whose Old Navy subsidiary has made 285,000 square feet in Mission Bay its headquarters).
The biotech sector got its start in the Bay Area, largely due to UCSF's presence, but South San Francisco, home to Genentech, had long been the dominant location for firms and jobs. The sector has begun to grow in the city, however, and San Francisco is hoping that offering its amenities along with access to the region's three large research centers (UCSF, UC Berkeley, and Stanford) will build on this growth.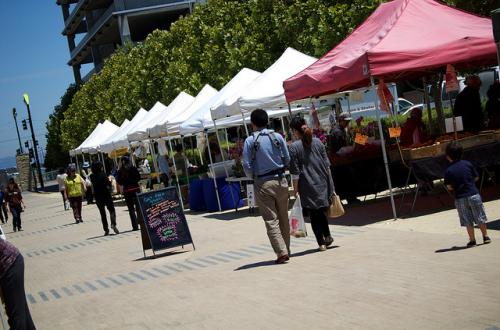 [Photo Credit: Colleen McHugh]
There are two main factors leading to the emergence of biotech in San Francisco, and Mission Bay specifically:
Having the UCSF Mission Bay campus as an anchor tenant: UCSF has long acted as a biotech magnet for the region, and the new campus puts the university's research activities within walking distance of firms moving into Mission Bay, a level of access that is difficult to replicate elsewhere. The UCSF presence also has the advantage of giving the neighborhood a substantial population and public center early in its development.
Passing a biotech tax incentive: In order to compete with other centers like South San Francisco and Emeryville, San Francisco passed a seven and a half year payroll tax exemption for biotech firms in 2004, and this year modified the legislation to allow firms to qualify for the exemption regardless of when they apply for it. This exemption is relatively cheap, costing just under $1 million in foregone taxes between 2004 and 2008, compared to total payroll tax receipts of $1.63 billion.

The City's strategy has met with some success, as noted in a December 2009 report from San Francisco's Office of the Controller:

In 2000, San Francisco had only 1.3% of the total life sciences occupied building base in the Bay Area. The figure declined during the recession in the early part of this decade, but did not begin to rise until 2005, after the exclusion went into effect in September 2004. Subsequently, the percentage has risen each year, peaking in 2009 at 6.1% of the regional total, approximately a five-fold increase over the city's share in 2004. Estimates suggest there could be 2,750 life science jobs in San Francisco, up from only 500 in 2004.
The Commute: As discussed above, Mission Bay has direct access to Muni's T-Third light rail, which runs through the center of the development. Additionally, workers in the neighborhood have access to Caltrain at the development's northwestern edge (the 4th and King station can also be accessed via Muni). While the 280 freeway acts as a barrier to walkability, the area is connected to the rest of the city via the street grid, allowing some commuting via walking and cycling.
But as in most job centers, many workers arrive via car. Parking allowances are higher than those in the downtown core; for example, a 250,000 sqft office building in downtown would have about 100 spaces, compared to 250 for a similar office building in Mission Bay, or 500 spaces for a biotech office building.
Precise commute data for Mission Bay is not available yet. But projections from UCSF for its campus indicate a possible mix of modes, with about half of faculty, staff, and students expected to arrive via auto, compared to 32% on transit, and 14% walking or biking. While the driving rates are higher than downtown San Francisco, they are lower than many other job centers in the region.
As we continue this occasional blog series on Bay Area job centers, we'll see how those other places stack up.

*Catellus Development is a real-estate spinoff of the Santa Fe Pacific Corporation, the railroad company that owned the railyards that now comprise Mission Bay.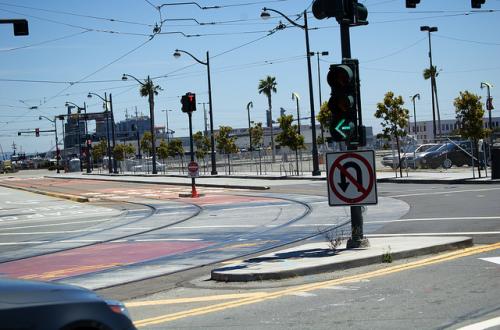 [Photo Credit: Colleen McHugh]