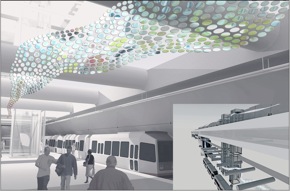 Reflected Loop [Image via San Francisco Arts Commission]
We are visual creatures. As such, we derive our orientation of our relative location according to the landmarks and visual reminders around us. This is especially evident in how we navigate urban areas, by remembering a block near a notable statue or fountain in an otherwise crowded arrangement of buildings.

It's a common situation - getting disoriented in an underground or enclosed public transit station (even for those who are spatially inclined). Without any visual cues, it's easy to get turned around and then end up walking an extra block or two in hopes of reaching the final destination. The Central Subway Public Art Program hopes to remedy this common dilemma by installing "landmark" and "wayfinding" art pieces inside the future terminals, playing with our natural visual tendencies for orientation.

These installations will be tailored according to three stations: Chinatown, Union Square/Market Street, and Moscone. Through creative interpretations of the cultures of those three areas of San Francisco, these projects have the potential to be impressive art installations, questioning the standard of an unpleasant commute by bringing back the enjoyment of a grand public transit system.

In the Union Square station, Jim Campbell and Werner Klotz's Reflected Loop (above) strings a series of light and ambient reflections through the station. The band winds around the station and connects back with itself in a continuous loop that has no beginning or end. The polished stainless steel discs of various sizes will reflect light according to the spaces around them.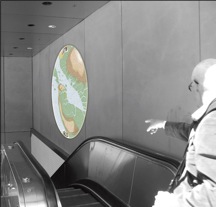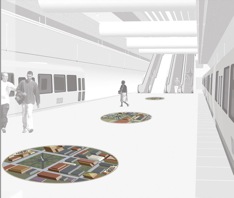 Passing Time [Image via San Francisco Arts Commission]
Inspired by the evolving development of Union Square from a rural environment to a residential area to retail business center, artist Keith Goddard's Passing Time (above) uses a series of intricate plaques to serve as visual reminders for areas of the station. He will use varied materials to make these mosaics.

The SFAC's Public Art Program brings the "public" back into public art through an innovative series of proposals for the station-specific installations. In preliminary stages, the plans were shown in three different museums for the three different stations, allowing for public feedback and for anyone to state preferences for particular pieces. "We are confident that the overwhelming participation of local and nationally known artists will result in artwork that displays the rich cultural diversity of our City and creates modern day art exhibits for the public to enjoy while awaiting their train in our new subway stations," stated SFMTA Executive Director/CEO Nat Ford. This intersection between arts and transportation exemplifies the new ways in which San Francisco is rethinking its public transportation and the importance of the visual mind in the process of traveling to and from places around the city.