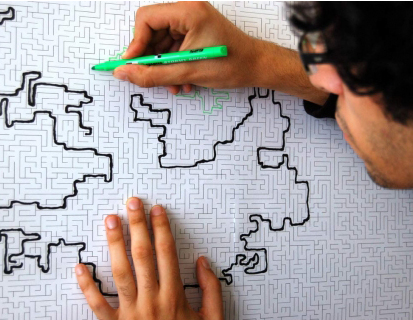 5.5 Designers' wallpaper maze [Photo Credit: Switched on Set]
You don't have to know what a fabber (digital fabricator) or modder (person who modifies) is to enjoy TechnoCRAFT, the latest show at the Yerba Buena Center for the Arts.
Like the word itself, the exhibit offers projects that blur any distinction there may still be between technology and art, designer and user or subject and object. Drawing from household goods, video games and prison-inmate implements, TechnoCRAFT displays frameworks, which the user then mods, tweaks and hacks to fit his or her needs. It is the perfect symbiosis.
It's great to see the role of the designer chopped and screwed back together. Among the many striking objects in this exhibit are the bike seat fastened to the legs of a toddler's high chair; build-your-own shoes, soda label and videogame hero; the malleable titanium cube waiting to be crushed into a form-fitting chair; and modular product development open platforms, called bugs.
As delightful as the exhibit is, it's difficult to step midstride into a participatory art project without being able to participate. The 40' by 15' wallpaper maze upon which the artist traced a dozen dead-end paths in magic marker practically begged me to pick up a marker and give it a go. But do-not-touch decorum and omnipresent gallery attendant foiled all hope of that.
Even if a museum isn't the best place to experience art as an interactive process, TechnoCRAFT is inspiring and loads of fun.
In the same do-it-yourself spirit, SPUR's DIY Urbanism exhibition opening Tuesday, September 7, will showcase innovative urban projects defined by their bottom-up approach to urban intervention.