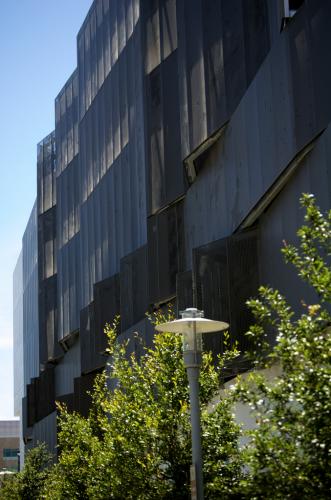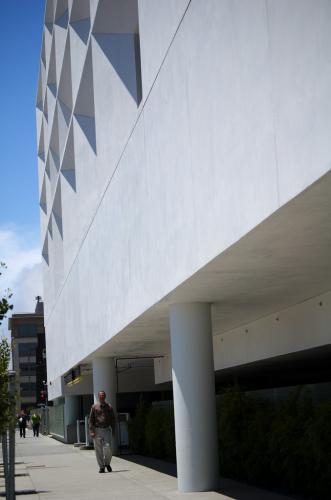 Maybe "Block 27 Parking Structure" isn't the most promising of names, but there's not much one can do to jazz up this widely reviled building type, so why try to come up with something catchy -- right?

At least that's what I thought before encountering WRNS Studio's garage on SPUR's Mission Bay walking tour last week. The Mission Bay Redevelopment District, home to luxury condos, swanky biotech headquarters, and a burgeoning UCSF campus, contains one of the most inspired parking structures around. Winner of a 2010 AIA San Francisco Design Award, the building incorporates "a deeply canted plaster wall" and perforated aluminum panels to great effect, standing out sharply from the surrounding office park. Although I'm not sure anyone on the tour picked up on the "pixelated imagery of California's redwood forests," it's curious to think that a parking garage, of all things, could invoke the region's ecological heritage.

The parking structure, which will accommodate the parking needs of nearby laboratories and offices, joins Ricardo Legorreta's UCSF Community Center and Richard Serra's giant oxidized steel sculptures as landmarks in this newly minted high-tech community. All these structures incorporate elements inspired from nature and contrast sharply with the glossy corporate setting, creating a more textured and personal sense of place in Mission Bay.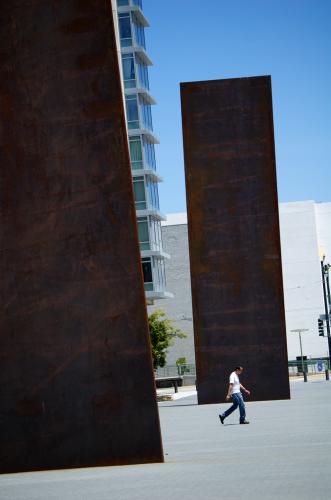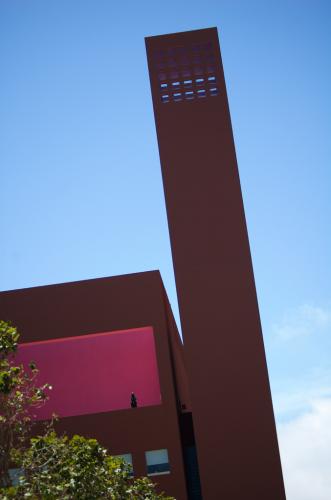 Ballast, Richard Serra (left); UCSF Community Center, Ricardo Legorreta (right)
[Photo Credit: All photos by Colleen McHugh]