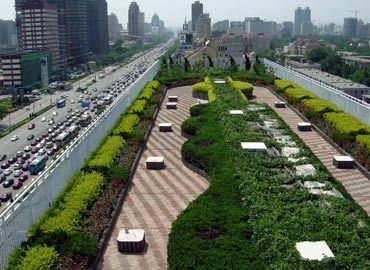 [Image: Green roof in Toronto from urbanneighbourhood]

How can cities best position themselves in the green economy? What is the role of manufacturing in urban areas? How can a city best choose an economic development strategy given its size and unique economic history? How should federal policy support policy innovation among cities?

Join us for an evening discussion with nationally-recognized visiting writer and professor Joan Fitzgerald. She will give us a preview of her new book, Emerald Cities: Urban Sustainability and Economic Development, to be published by Oxford University Press in early 2010. In the book, Joan Fitzgerald shows how in the absence of a comprehensive national policy, cities have taken the lead in addressing the interrelated environmental problems of global warming, pollution, energy dependence, and social justice. Her analysis includes a comparison of 24 cities throughout the United States - major cities like New York, Chicago and San Francisco (of course) but also less known places such as Toledo and Syracuse.

Join us on Tuesday, November 17, 2009 6:00 pm

Where: SPUR Urban Center (654 Mission Street)

Joan Fitzgerald is a nationally-recognized writer and professor who directs the Law, Policy and Society Program at Northeastern University. Earlier this year, Fitzgerald edited The American Prospect's April 2009 special report on "The Green Challenge: Will Cleaner Energy Produce New Industries and Good Jobs for Americans?" The answer, says Fitzgerald and the six other contributors to that report, is Yes—provided that governments at the federal, state and local level give green manufacturing the support it needs to flourish. That means much more thanfunding specific companies; it requires crafting and implementing a comprehensive industrial policy. Such a policy, Fitzgerald writes in her piece Cities on the Front Lines, would recognize how traditional sources of manufacturing strength can serve as the base of a renewable energy economy. She cites how a former glass technology and manufacturing center like Toledo, Ohio has now become a leader in solar energy.

And last month in an op-ed for the Boston Globe, Fitzgerald warns that absent a broad and coherent industrial vision that connects demand, supply and technology, the United States is likely to cede leadership in renewable energy production and other clean technologies to German, Japan and China.